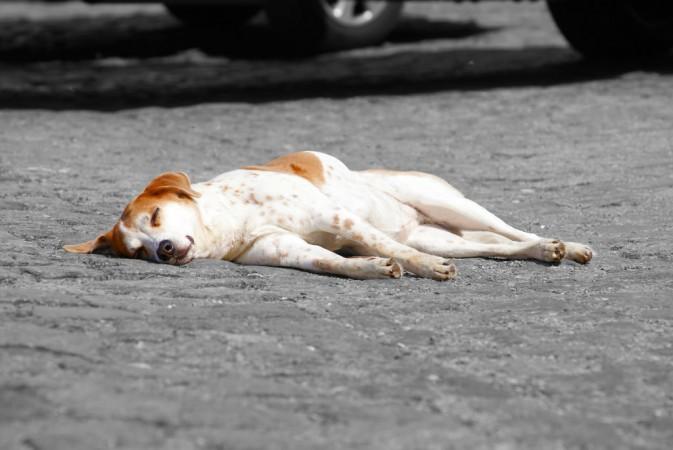 Heart-wrenching photos of a sleeping dog buried in coal tar on a road in Uttar Pradesh's Agra have taken the internet by a storm. The incident took place on the Fatehabad road when the animal was sleeping near the pavement on Tuesday (June 12).
Construction workers, who reportedly did not see the stray dog, poured burning coal tar on the dog and later crushed it to death.
A fresh layer of coal tar was being laid on the road from Phool Sayyed crossing towards the Circuit House and Taj Mahal. A dog was sleeping on one side of the road. "Instead of chasing the animal or removing it physically, burning coal tar was poured over it. Later, a road roller crushed the animal. The body has now disappeared," social activist Naresh Paras told PTI.
What is even more shocking is that even the painful howling of the dogs did not stir the construction workers to rescue the canine. After the photographs of the dead dog went viral on social media platforms, netizens have come down heavily on the insensitivity of the people laying the road.
While Anand Rai, a social activist, has dubbed the incident as "hight of cruelty", senior journalist Sunayan Chaturvedi said, "(it was) an act that shames humanity."
As the incident took place in Uttar Pradesh, a section of people on Twitter have not only lambasted chief minister Yogi Aditynath but have also lashed out at BJP and Prime Minister Narendra Modi.
Whoever did this needs to be jailed. Hot tar poured over sleeping dog and road roller crushed its body! What sort of a monster was living amongst us. @CMOfficeUP @myogiadityanath must order an investigation to nab the culprit. A dog too has a right to livehttps://t.co/PXjZT2AYB7

— Golden Arrow (@ChocolateLavaC1) June 13, 2018
So this road construction company in Agra poured burning tar on a sleeping dog and buried it alive, instead of physically removing the creature or shooing it away. Despicable, inhumane behaviour. UP definitely "sudhar" raha hai. cc: @myogiadityanath https://t.co/gkSoa9fJMb

— Comfortably Dumb (@mooninanfield) June 13, 2018
Whoever did this needs to be jailed. Hot tar poured over sleeping dog and road roller crushed its body! What sort of a monster was living amongst us. @CMOfficeUP @myogiadityanath must order an investigation to nab the culprit. A dog too has a right to livehttps://t.co/PXjZT2AYB7

— Golden Arrow (@ChocolateLavaC1) June 13, 2018
Sorry @narendramodi sir I was not at all interested in urfitness challenge vdeo rather upset over a sleepn dog partly covered wid hot tar while making road in Agra.A howling dog in pain will give sleepless nights2Criminals but xpectn strict action &ur answer.@Manekagandhibjp

— rjpayal (@Rj_Payal) June 13, 2018
Is there any humanity left in India???
This is Modi/BJP/RSS effects on mundane society in india.
Feeling exasperated and desperate. May god be curse upon the offenders?

Dog Buried Alive As Hot Tar Poured On Him During Road Construction In Agra https://t.co/FoKRpwQuLL

— Hassan Zahoor (@iamehz) June 13, 2018