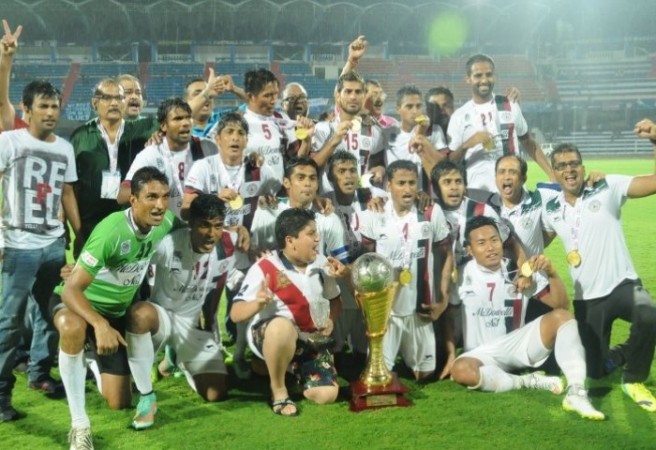 There is some worrying news for Indian football fans or rather the I-League fans, as the domestic club football league in India may be facing some real troubling times now.
The future of the I-League has been debated over from the moment the Indian Super League got underway.
However, following the end of the blockbuster inaugural edition of the ISL last year, many bigwigs from Indian football as well as the All India Football Federation (AIFF) stated that both the leagues can operate at the same time.
That may not be the scene anymore, as reports have emerged that two of the Western Indian I-League outfits – Pune FC as well as I-League 2014-15 debutantes Bharat FC – are terminating their club.
This is a growing concern with the clubs participating in the country's premier club football competition as well.
"All the I-League clubs met Praful Patel [President, AIFF] two weeks ago in Delhi and expressed their concerns over the direction taken by Indian football and the future of I-League itself. Every club official expressed concern at that meeting," an unnamed club official was quoted as saying on Wednesday.
"At this point of time there are certain concerns in the minds of some clubs whether to carry on in the I-League," he added.
According to a report from Firstpost, Goan outfit Salgaocar FC had also thought about shutting their shop this year if they were relegated this season. However, since they finished above the relegation zone in the 2014-15 season, it is likely that the club will shut their first team operations after I-League 2015-16.
Not only that, Shillong outfit Royal Wahingdoh are willing to wait till October-November to decide on their future.
Kolkata heavyweights East Bengal and Mohun Bagan have also faced a financial crunch ever since the infamous Saradha chit-fund scam in West Bengal struck them.
Bagan may have won the I-League last season in the most dramatic fashion, and got the ₹70lakh (winning prize money) boost, but club secretary Anjan Mitra feels that they may have to think about ISL now, if there's no other option.
"The ISL clubs run with profit motive, our club runs with football motive. We have millions of fans and cannot stop playing," Mitra said.
"As for joining the ISL, even though I'm against it, we will have to sit down and discuss it (if the I-League shuts down)."
Mitra's sentiments were echoed by an official of a Goa-based I-League outfit.
"The remaining club owners will bleed till one day they realise that enough is enough. Those still sticking around in the I-League are doing so because of the love of the game. But one day, money will run out," the official told Firstpost.
"There are no eyeballs in the I-League. In the ISL, you get attention, you get viewership and there is the hope that one day you will make some money. There is no hope in the I-League."
Bengaluru FC, since their debut in the I-League 2013-14, have become one of the biggest sporting brands in India. However, the pitiful state of the league is a major concern for them.
"If it's true (Pune and Bharat FC folding), then it's a big blow for all of us. Pune is an established name and of the better run clubs with a good system and mindset. I think it's important for the league to hold on to these big names rather than let them fold," Mustafa Ghouse, CEO, JSW Sports (owner of Bengaluru FC), said.
"We should be looking at more teams joining, not dropping out. All in all, it's a good wake up call for Indian football. Call it whatever you want, but this nation needs an eight-month league."
I-League CEO Sunando Dhar said in an interview that the two leagues -- I-League and the ISL - complemented each other.
"The challenge will be to ensure we create a new league which preserves the distinctive features of both leagues," he said in an interview with ESPN FC.