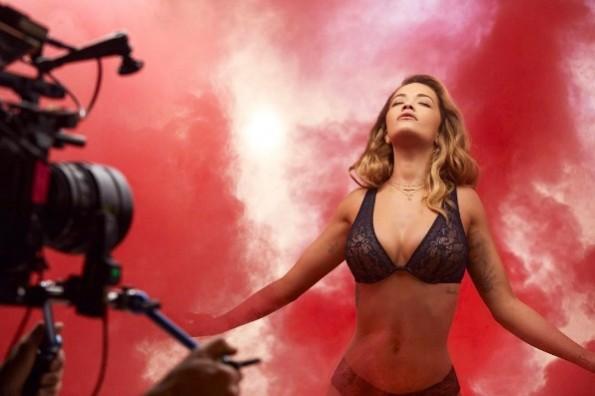 Rita Ora is having an amazing 2018. After she ruled the charts with her Fifty Shades Freed song titled For You, the singer's song entered the Top 10 songs on the Official Singles Chart this week. The entry helped Ora equal the record for the most Top 10 singles by a British female artist.
Ora joins Shirley Bassey and Petula Clark, who have had 12 songs each in the Top 10s, to set the record, Official Charts reveals. Celebrating this achievement, Ora decided to heat things up and shared a couple of sultry lingerie-clad pictures.
The 27-year-old slipped into a black lacy bar to flaunt her assets and flash her brightest smile. The songstress, happy about the record she made, captioned the series of pictures which read:
"I'm excited about things coming up so I've taken a bunch of pics as one does lol (not)‍♀️ Thank you for naming me amongst some incredible females by joining them In having the Most Top 10 hits by a British female artist in over 30 years!"
Though For You collaborated with Liam Payne has been the only presentation this year, Ora had three songs on the Official Chart last year. They include Your Song, Lonely Together and Anywhere.
Apart from her music, it was also reported recently that Ora has been signed to be a part of the Pokemon movie titled Detective Pikachu.
The live action movie sees Deadpool star Ryan Reynolds on board playing the title character. While The Hollywood Reporter confirmed her casting, the site did not reveal much information about her role in the movie.
Ora will join Rob Letterman (Goosebumps) as director. The cast also includes Kathryn Newton (Big Little Lies, Three Billboards Outside Ebbing, Missouri) and Justice Smith (Paper Towns, The Get Down) in the movie. Filming is expected to start filming in London next January.
According to numerous reports, Detective Pikachu is on a quest to find Justice Smith's character's father after the latter was kidnapped.