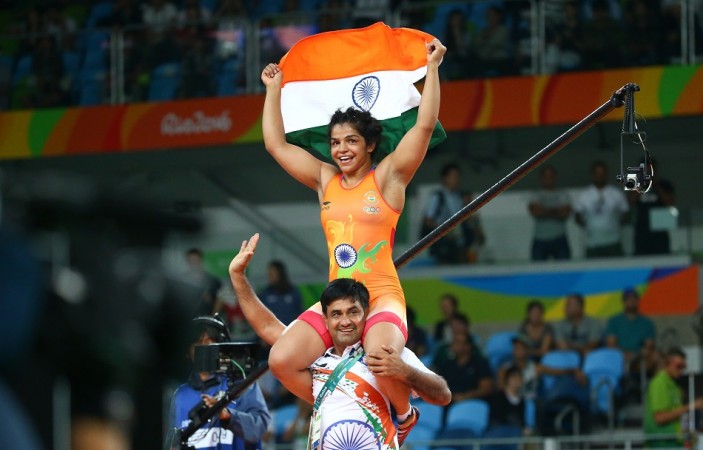 Nearly two weeks after the Olympics was officially opened, India finally won a medal, thanks to a plucky wrestler, who fought her way to a bronze. Sakshi Malik's name will not forever go down in history as the woman who rescued the country from ignominy, giving India the medal they have been looking for in nearly 14 days of competition.
After losing her quarterfinal match in the women's 58kg category to Valeriia Koblova Zholobova, it looked like Sakshi's time in Rio was over, but a sliver of hope came up when the Russian entered the final, because that meant the Indian had a chance to win a medal via the repechage.
Sakshi took full advantage of that opportunity, winning her next two matches to give India their first medal of Rio 2016.
Once it became clear that another door was open for Sakshi to win a medal, the Indian took control. She first beat Purevdorjiin Orkhon of Mongolia, before clinching the all-important clash over Aisuluu Tynybekova.
The first win over the Mongolian was all about dominating in the second period of the match. After the first three minutes ended with the score locked at 2-2, Sakshi decided to make her move, and make her move she did. The pins came, the power flowed through and after a few takedowns, Sakshi had added ten more points to her side, while the Mongolian could only manage one. As a result, Sakshi won her match 12-3, advancing to the bronze medal playoff.
There was still plenty of work to be done, but Sakshi was a determined wrestler now, with only the bronze in sight, even if she had to pull out all the stops to come out on top.
For a fair while in the playoff, it looked like India's chance at a medal would fall agonisingly short again, but Sakshi came back brilliantly, much like she had in all her previous wins. After going 5-0 down, Sakshi somehow found a way past Tynybekova in the second period.
A couple of tackles that took her opponent to the mat earned Sakshi four points, which put the match in the balance, with the Kyrgyzstan wrestler leading 5-4 going into the final moments. Another point came Sakshi's way, making it 5-5, before two more were awarded to the Indian wrestler right at the end. The expected challenge came from Tynybekova's camp, but the points stood, with Sakshi gaining an extra one for the lost challenge.
It was all about the celebrations after that as the Indian soaked up the applause for producing one of the better come-from-behind performances you are likely to see.
With the bronze, Sakshi became just the fourth woman athlete to win a medal for India, following in the footsteps of Karnam Malleshwary (weightlifting), MC Mary Kom (Boxing) and Saina Nehwal (Badminton).