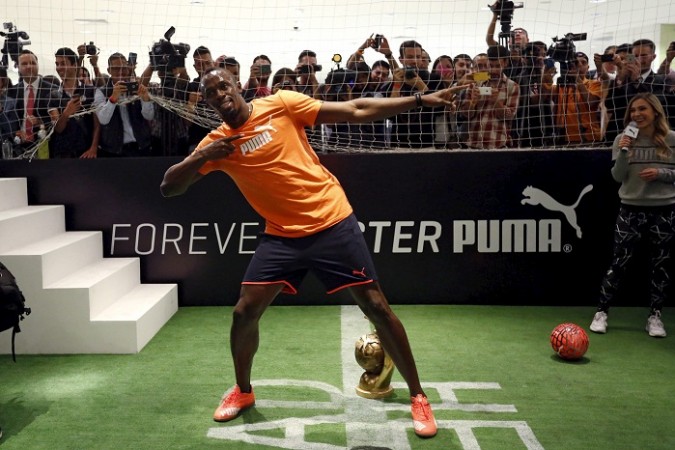 Usain Bolt is one the greatest sprinters the world has ever seen, winning gold medals in major competitions even when odds are stacked against him — hallmark of a great athlete. The Jamaican might have been troubled with injuries in the recent past, but another legend, Michael Johnson believes he will shine in Rio Olympics, provided he stays fit ahead of the quadrennial event.
Going into the Rio Olympics, Bolt is a favourite to win at least two more gold medals in 100m and 200m sprint. The world record holder in both the events is expected to face competition from Justin Gatlin, but if Bolt is fully fit, and runs at his menacing best, it would take something extraordinary to beat him on the tracks in Brazil.
Bolt has won an impressive six gold medals in the last two Olympics, along with a number of first-place finish in World Championships. Johnson is in awe of the career that Bolt has had, and considers him to be the greatest of the era, adding him to be a favourite for Rio in the sprint events.
"He's had a fantastic career. He's getting toward the end of his career. He's certainly the greatest of this era. What he's been able to do in this sport is amazing. What he's meant for the sport has been truly significant over the last eight years," Johnson told nydailynews.com in an interview.
"This will be his last Olympics coming up, and I think that at least as long he stays healthy he'll win again, which would be unprecedented. He's one of those special athletes that comes around once in a generation."
Though Bolt will be a favourite in Rio, the Jamaican has a huge objective – become the first person in the history of the sport to run the 200m in sub-19s. Such a record is ridiculous to be even thought of, but we are talking about Bolt, the fastest man on the planet, who has achieved greater things in the past.
Besides the record, there has been a lot of talk regarding Bolt's retirement after the Rio Olympics, but he recently spoke about even running in the World Championships next year. Johnson believes Bolt will finish his career on a high.
"I know him fairly well. He always wants to talk to me about his retirement. I think what he wants to do is make sure he goes out on top as opposed to overstay his welcome," Johnson said.