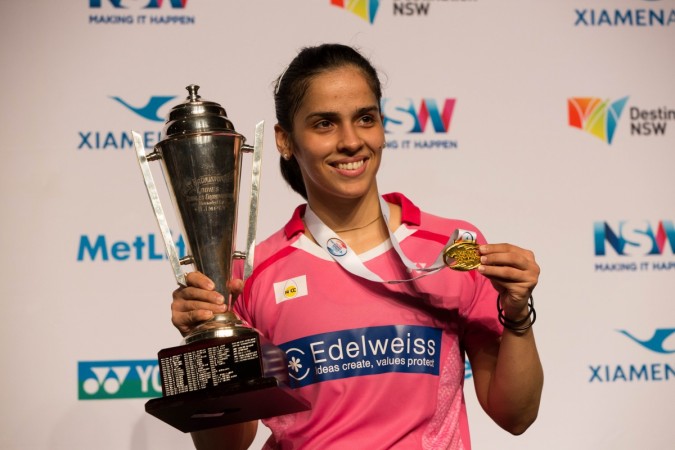 Saina Nehwal has placed India's name on the global map of women's badminton with some incredible shuttle play for some years now. The India star, 26, won a bronze medal in London 2012 Olympics. The upcoming Rio Olympics could be her last, and the former world number one believes that she can defeat any top player in the world when fit.
But it is her fitness precisely that has been a concern. Saina missed a number of competitions earlier in the year due to injuries, and has gradually improved after making a comeback in the All England Open in March. The world number five won the Australia Open last month, which should give her confidence to take on any player in the world.
"I feel I am fit, with some nagging injuries. I am running nicely. Between mid-December and the beginning of March, I could not play any tournaments due to injuries," Saina told First Post in an interview.
"I do not feel pressure too much. I feel that on the day I am 100 percent fit, I can defeat anyone. Yes, there are the initial butterflies in the tummy just when we step on to the court. But once the match starts, everything settles down. So match pressure or atmosphere is something I enjoy, it is a positive. I try to fight to overcome pressure in the match."
Though Saina knows how to handle pressure as she has shown, playing against top shuttlers, one cannot ignore the burden she will be carrying on her shoulders at Rio. Even those who are not ardent badminton fans will have their eyes glued to the screen when Sania represents India in the Rio Olympics.
Click here to read: Can Saina win gold in Brazil?
"No, till now such things (pressure playing for India) have not really crossed my mind. Maybe, since it is a mega event that takes place once in four years with the atmosphere of the huge Olympics village, it is there somewhere at the back of one's mind," Saina said.
Less than a month remains for the Rio Olympics to begin and athletes all around the world are busy preparing for the mega event. Saina too is practising for hours together, with different sparring partners.
"The entire day is spent in different sessions of training with sparring partners. It is ​over three sessions of five hours in total – two, two and one hour sessions. Then there is full stretching with the physio, good nutritious meals and sound sleep. Then there is also a bit of entertainment on TV before I sleep," Saina said.