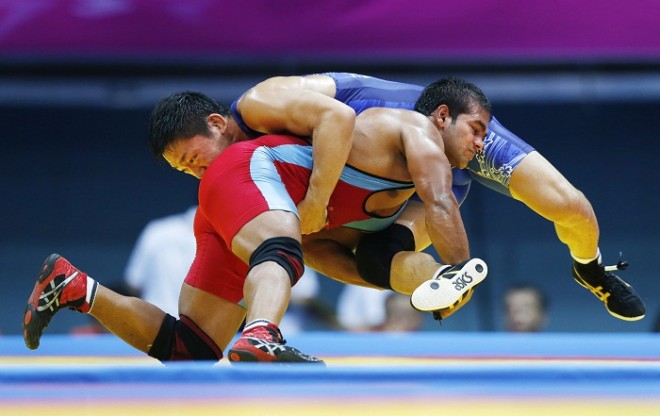 The ongoing debate over whether to send Sushil Kumar or Narsingh Yadav for the upcoming Rio Olympics in Rio has taken an interesting twist. Sushil Kumar's name is not mentioned in the list of probables forwarded to the IOA, but the two-time Olympic medallist could still fly to Rio if the Wrestling Federation of India (WFI) opts for a trial and Delhi wrestler defeats Narsingh.
Despite Narsingh's name being on the list, Raj Singh, the WFI Vice-President, says that the decision is not final.
"As of now, Narsingh Yadav's name is present in the list of probables, which has been sent to the Indian Olympic Association. But that the does not mean, the decision taken is final. If the WFI decides for a process of trial and Sushil emerges victorious, he could be on his way to represent India in the 74 kg category in Rio," Raj Singh told International Business Times, India.
However, the WFI is yet to take any decision regarding a trial. There is a serious need for the governing body to take a call soon, as the Olympics is less than three months away.
Narsingh helped India earn a quota place by winning the bronze medal in the Men's 74kg event of the World Championships in Las Vegas in September. One has to note that the wrestlers do not earn a place for themselves, but for the nation. Sushil missed out on competing in the qualifying competition due to an injury.
Hence, Sushil and Narsingh, who both wrestle in the 74 kg category, have both said that they want to be the one to represent India in Rio, putting their case forward for inclusion. Narsingh felt the wrestler winning the quota should be selected while Sushil wants a trial so that the best wrestler could represent the nation.
The WFI are in a fix as both the wrestlers have done considerably well for India in the past few years, winning medals in major competitions.
But, one can see some logic for the WFI's stance at present -- including Narsingh's name in the probables list – as he is an experienced athlete in the 74 kg category, while Sushil jumped to this category only a few years ago. Sushil participated in the last two editions of the Olympics, where he won medals, in the 66kg category.