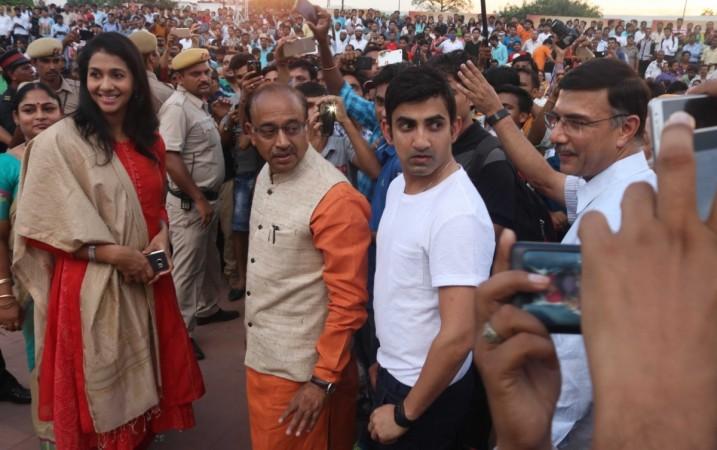 India seems to be making news at the 2016 Rio Olympics for all the wrong reasons. The latest involves two politicians from the country, one being reportedly reprimanded for taking his staff into areas where they should not be just so he can take selfies with the participants from India, while another charge-sheeted politician being given unrestricted access at the venue.
All this just adds to the dark clouds surrounding the Indian contingent at the Olympics. First it was about Indian hockey contingent being not given enough amenities in the Olympic village, then athlete Dutee Chand complaining that she was made to fly economy class even as officials flew business class, and finally Indian boxers facing the spectre of a ban from this edition of the quadrennial sporting event because something was wrong with their jerseys.
But is clicking selfies or photos with athletes from one's country that bad? It seems Sports Minister Vijay Goel is clear on that front, but the problem arose when he was accompanied by other people into areas that were off limits for them — areas where they were not supposed to be. And when Olympics officials pointed it out to them, these people reportedly acted "rude and aggressive."
So what are these photos? One was with a clearly exhausted boxer, Vikas Krishan; another with Deepa Karmakar, and a third with the Indian women's hockey team. It was the photo with the hockey team that led to all the trouble. See them here:
Goel, subsequently, took to Twitter in an effort to clear the air. He wrote: "To my knowledge, we have been following all rules & regulations. We are committed to the spirit of Olympics & back our Indian players. (1/2) [sic]"
He added: "There seems to be some misunderstanding as we have followed all protocols as advised by the organizers. ( 2/2 ) [sic]"
The other Indian politician whose allegedly tainted image raised eyebrows at the Olympics venue is Abhay Chautala, who belongs to the Indian National Lok Dal, and is the son of prominent politician Om Prakash Chautala. Chautala Jr currently has a disproportionate assets case registered against him in which he was chargesheeted a few years ago.
It was this chargesheet that almost cost the Indian Olympic Association (IOA) dear, with the International Olympic Committee (IOC) suspending it, because its rules do not allow a chargesheeted person in any of the elected posts in its accredited organisations. Nevertheless, the younger Chautala contested the elections and won, amidst huge controversy. A year later, the IOA changed its rules to conform with the IOC's, and Chautala was shown the door.
Therefore, it was indeed a surprise for many when Chautala was spotted not only in the Olympics village but also posing for photos with some members of the Indian contingent.