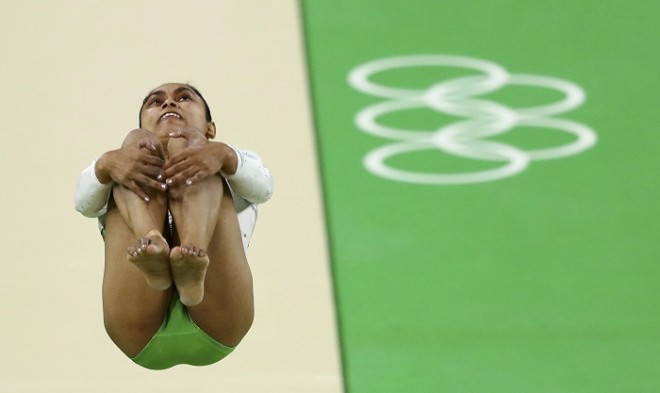 Dipa Karmakar, the lone gymnast in Rio Olympics from India, has won hearts all across the nation, after becoming the first Indian to quality for the vault finals in gymnastics in the quadrennial event. But just winning hearts is not her major ambition in Rio and she will be giving her 100 percent in the vault finals, with the hope of bringing glory to India with a podium finish on Sunday.
Click here to read how India's Dipa Karmakar missed bronze medal by whisker
The Tripura girl has previously won bronze in the 2014 Commonwealth Games and 2015 Asian Championships, but her vault finals in Rio will be her biggest test so far in her career. Karmakar's support staff, more importantly her coach Bishweshwar Nandi, have left no stone unturned to help her finish in the podium.
After Dipa qualified for the finals, Nandi removed the SIM card from her mobile phone, and was only allowed to talk to her parents. The reason being that Nandi wanted Karmakar to focus on the finals only, and nothing else. One hopes such strict regime will bear fruit for the gymnast. These are all off-field events, but the main action will be fought by Karmakar alone in the vault finals.
She will be under pressure, but Karmakar just needs to stay calm and composed to shine in the finale of the event. Nothing can get better than this for the Indian, who can create history winning a medal in the vault finals. Karmakar is set to perform the most difficult "Produnova" vault, which is considered to be the most risky, but the gymnast from India has perfected the vault, which increases her chances of a medal if everything clicks on Sunday for her.
Karmakar will be competing against the best gymnasts from around the world, including Simone Biles, who has made it a habit of winning gold medals in world champions and other events. Biles has been superb in Rio 2016 as well, clinching gold in team and all-around events, and she will get going for her another gold medal in the vault finals.
Besides the American, there are some other contenders including North Korea's Hong Un-Jong, Russia's Maria Paseka and Wang Yan of China, among other gymnasts. Karmakar is an underdog for a medal and will be keen to stun some of her fellow competitors.
Where to watch Dipa Karmakar's vaults final live.
The vault final is scheduled to start at 11:17 p.m IST ( 2:47 p.m local time, 6:47 BST, 1:47 p.m ET).
India: TV: Star Sports 2/HD. Live Streaming: Starports.com and Hotstar.
UK and Ireland: TV: BBC. Live Streaming: BBCiPlayer.
USA: TV: NBC. Live Streaming: NBC Sports live extra, NBC Olympics
Brazil: TV: SporTV, Globo, Fox Sports and ESPN.
Argentina: TV: ESPN and DirecTV. Live Streaming: ESPN Play Latin America.
Australia: TV: Channel 7, 7Two and 7Mate. Live Streaming: Channel 7 online.