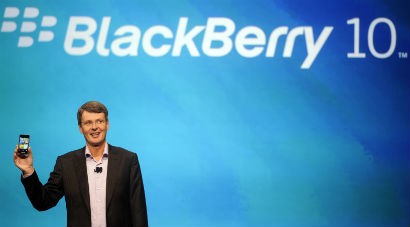 Canadian handset maker RIM (Research in Motion) is reportedly planning to launch at least six BB (BlackBerry) 10 OS-based smartphones by the end of this year.
RIM CMO Frank Boulben in an interview with FierceWireless said that the company plans first unveil two smartphones - one full-touch screen handset and the other a QWERTY keypad-based smartphone - along with the launch of the company's latest BlackBerry 10 OS on Jan 30.
He further said that RIM does not have exclusive partnership with any carriers for BlackBerry 10 in any markets. Hence, the company would be free to go after different market segments with its new platform and devices.
Boulben also revealed the company's plan of launching devices with different price ranges from high, mid-level to lower-end smartphones in the market. "We intend over time as we transition the portfolio to have a full range of devices," he said.
Many analysts have opined that the new BlackBerry 10 OS and devices will either make or break the company's revival, considering RIM's current global market share.
According to the market research firm IDC (International Data Corporation) Q3 (Third Quarter) 2012 survey, RIM holds a little over four percent market share in the global smartphone market. The company's year-to-year profits have declined over the years ever since they peaked in 2008.
RM was a pioneer of smartphone revolution in the niche corporate sector for its secured email service but lost its sheen to rivals Samsung and Apple which have covered almost half the global smartphone market.
RIM company now seems to be re-organizing a strong come back in 2013. Few months earlier, the company said it RIM cleared US security regulations to sell smartphones to government-run agencies in the country. RIM's stocks have also risen over the last three months.
CEO Thorsten Heins in a recent statement expressed happiness over the positive responses of the carriers towards the Black Berry 10 platform and added that more carriers are coming forward to launch Black Berry 10 devices in their markets.
According to Reuters, top network carriers Verizon Communications, AT&T and T-Mobile USA confirmed they will sell BlackBerry devices in America.
RIM's BlackBerry 10 OS based smartphones are expected to hit retail stores by February.