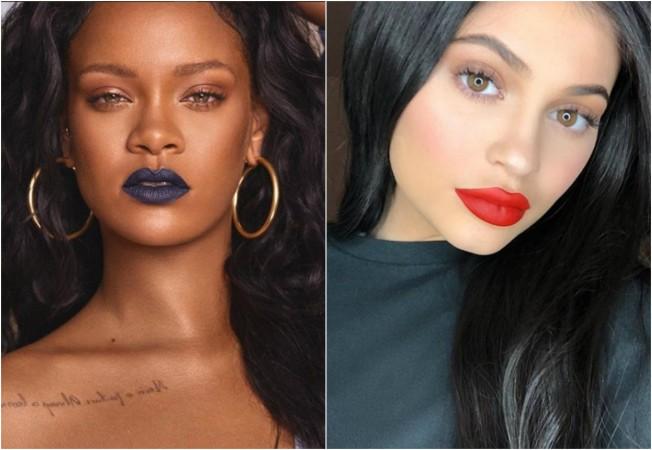 Like the world of music, Rihanna is slowly conquering the world of cosmetics with her newly-launched Fenty Beauty line.
As per social media buzz, the singer-turned-make-up entrepreneur's four-month-old Fenty Beauty line is ready to dethrone Kylie Jenner's year-old Kylie Cosmetics.
Need some proof?
According to a report by the New York Post, a recent study by Fizziology has found that more make-up obsessed teens are preferring Fenty products as they accuse Kylie's line of being racial.
Also read: Christmas spirit! 'Sick' Rihanna manages to turn heads with a sexy red gown look [PHOTO]
A Fenty fan recently took a dig at a Kylie fan on Twitter, saying: "Just admit it, #FentyBeauty with all its diversity has got you shook, with your 'one black shade fits all' model. [sic]"
Make-up lovers have apparently gone into a frenzy over Fenty's 40 different shades of foundation, which prompted to a strong racial accusation against Kylie Cosmetics.
"Fenty had four times the amount of buzz of Kylie Cosmetics, and 57 percent of the conversation around Kylie Cosmetics was negative," Jen Handley, co-creator and co-president of Fizziology, told the Post. "It appears that Fenty damaged the Kylie Cosmetics brand."
Jonathan Feeney, household and personal care analyst for Consumer Edge Research, said, "Rihanna/Fenty did a brilliant job and also embracing that from a marketing standpoint."
However, Kylie Cosmetics reportedly earned a whopping $420 million in sales within its first 18 months (as per WWD report in August) which bagged her a prestigious mention in Forbes' list of Highest-Paid Female Celebrities Of 2017. She was also the highest-paid member in the Kardashian clan.
In the meantime, YouTube announced that Fenty Beauty racked up 132 million views in its first month. Also, it earned $72 million in earned media value during the month of September, as per a report by WWD.