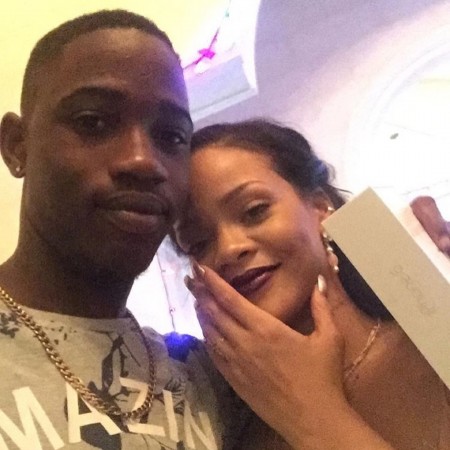 Rihanna's cousin was shot dead in Barbados just hours after the Grammy winner spent Christmas Day with him.
The 29-year-old singer took to Instagram to post a series of photos of her and cousin, Tavon Kaiseen Alleyne to pay her respects and also took the opportunity to address the issue of gun violence.
Also read: Christmas spirit! 'Sick' Rihanna manages to turn heads with a sexy red gown look [PHOTO]
As reported, Tavon, 21, was on a walk along the tracks in the St Michael's area of the holiday island at around 7pm on Tuesday night, when the incident happened. An unidentified stranger walked up to him and shot him several times before fleeing the scene.
Tavon was rushed to a nearby hospital in a private vehicle but unfortunately, couldn't make it eventually.
"RIP cousin... can't believe it was just last night that I held you in my arms!" Rihanna wrote on her Instagram post dedicated to her late cousin. "Never thought that would be the last time I felt the warmth in your body!!! Love you always man!"
She added the hashtag "endgunviolence" at the end of her post as well, which also makes it worth noting that earlier this month, Barbados Police had confirmed a significant increase in gun-related crimes as compared to last year.
Back in 2012, Rihanna had received a lot of flack for getting inked with a controversial gun tattoo herself, which she had explained saying the tattoo was to signify her strength, and how she would never be a victim – referring to her very public Chris Brown assault around the same time.
Rihanna also posted a memorial for her deceased cousin on her Instagram stories, mentioning his handle - @merka_25. She wrote "Rest up lil cuz" followed by a number of emojis.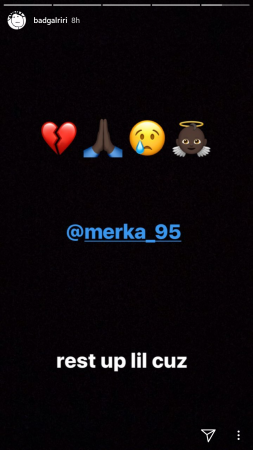 As soon as the post went up, a number of ardent fans and followers of the Work singer posted their condolences and extended support for her and the family during these trying times. A few celebrities took to social media too, to share their sentiments.
#StayStrongRihanna We love you so much, our hearts and prayers go with your cousin, we are sending all our love to comfort you and your family. May he rest in peace. @rihanna

— Rihanna Online (@RihannaOnlineBR) December 27, 2017
Learn how to respect. Rihanna's cousin got killed because gun's are given away to anyone. And all you can do is promoting and making racist remakes cause he's a Poc? Remember, anyone can shot you up with a gun. No one out there is 100% safe. So atleast show a little manners.

— Katheryn's Bae.❤ (@kperryswitness) December 27, 2017
Babe @rihanna I'm so sorry for your loss! You've always been there for us so now I will always stand by your side! It's devastating to hear the news of ur very young cousin be taken away because of lack of gun control! I pray U and your family will be okay during this rough time.

— Laura (@Rihanna_Jameel) December 27, 2017
Rihanna's cousin died because of gun violence. It's heartbreaking to see another innocent life lost. Lets end gun violence. My hearts and prayers go out to rihanna and her family. Sending y'all lots of love. #EndGunViolence #WeLoveYouRihanna

— . (@grandeforvogue) December 27, 2017
Life is fragile - Here today gone today. Can't imagine the hurt and pain Rih's family is feeling with the passing of Tavon. Let's be reminded we are here on borrowed time. Treat everyone with love and respect so that if they are taken away our mind is free. RIP @rihanna cousin

— s (@Sitruc_39) December 27, 2017