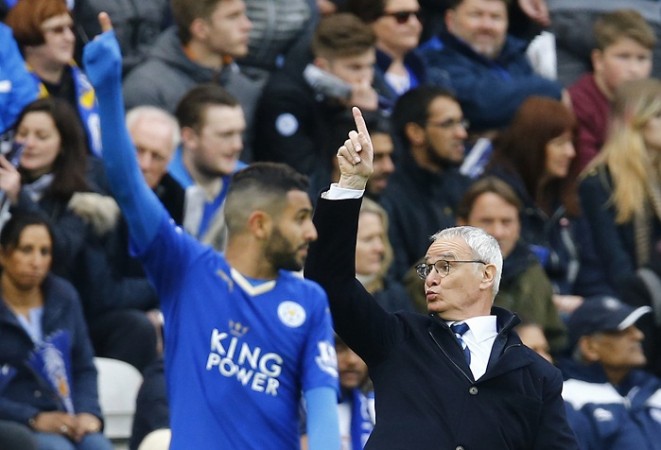 The build-up for Leicester City's clash with Swansea City on Sunday at the King Power Stadium was not only about the title race, but also about Jamie Vardy, as the striker was suspended for his red card offence against West Ham. But, the home team did not miss the striker much as Leicester scored four goals past Swansea to strengthen their position -- by eight points -- at the top of the table.
It was a game which was expected to test their character, and their players responded magnificently, with goals from Riyad Mahrez, Leonardo Ulloa, who scored a brace, and Marc Albrighton. They look good throughout the game in front of their home fans, who can dream of winning the EPL title.
Overall, Leicester manager Claudio Ranieri was pleased with the performance of his players, and wants them to give it their all in the remaining matches of the season.
"It was great to see my players fight. We had some difficulties, but everybody made sure we had a good match. Now it is important for us to make our dreams a reality. Now is the right moment to give everything," Sky Sports quoted Ranieri as saying.
Though Leicester enjoy an eight-point lead, it can be cut short to five if Tottenham Hotspur defeat West Brom on Monday. Tottenham have been trying to take advantage of any hiccup from Leicester, but the Foxes have been mighty impressive, playing some brilliant football when it matters most.
Leicester City have taken 19 points from the available 21 in their last seven EPL games, but they have huge games coming up in the competition. Leicester are set to face Manchester United, Everton and Chelsea in their next three games, and their players need to showcase their skills against such quality teams.
The Foxes, once again, might have to do without Vardy for their next game against Manchester United. The FA charged the striker with improper conduct after receiving a red card, which might hurt Leicester. The table-toppers will once again look for Mahrez, who won the PFA Player of the year, to inspire their team in Vardy's absence.
Ranieri is aware that their prolific goalscorer might not be available for next weekend's game, but the Italian believes Ulloa can step up again in the Englishman's absence.
"If Vardy is suspended for another game it's important we remain solid. I'm very pleased with Ulloa. I was sure about his performance but I wasn't sure he would score two goals. Ulloa made two fantastic goals," Ranieri said.