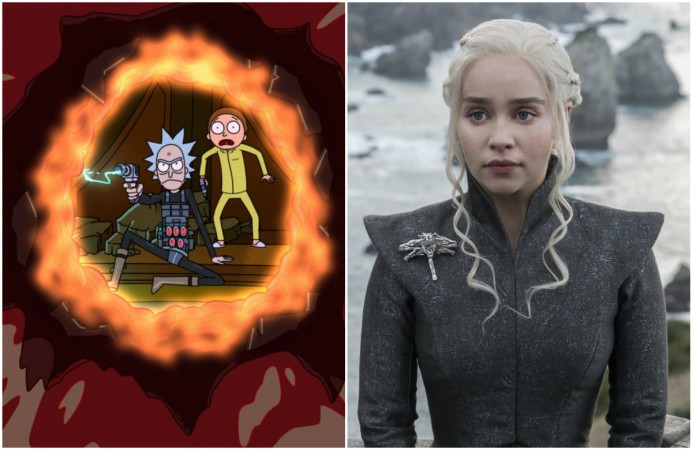 Unlike past years, 2017 has seen an unprecedented amount of good TV shows that our television set was almost about to explode.
These days, the list of TV contents is just getting so bigger that it is not easy to keep track of every TV show. Surprisingly, this year a lot of TV shows from the big streaming sites turn out to be a game-changer.
Also read: Game of Thrones Season 8 air date, spoilers: Jason Momoa knows something about the final season
However, as it is almost the end of 2017, we were about to round off a list of top ten best TV shows of 2017. But, Guardians of the Galaxy director James Gunn has made our life easy as he tweeted his top picks of the year and that list pretty much sums up the best stuff on TV.
Check the list below.
1. Rick & Morty (Netflix/ Adult Swim)
Unlike The Simpsons, the animated American sitcom deals with a crazy scientist Rick Sanchez who always drags his grandson Morty into some deadly scientific adventures and end up with harmful consequences.
Bullshit. The Ricklantis Mixup is a top ten all time TV episode. And Pickle Rick is one of 2017's few moments of true redemption. https://t.co/CPI9ISp6Y7

— James Gunn (@JamesGunn) December 6, 2017
2. Game of Thrones (HBO)
The American fantasy drama series has been adapted from George RR Martin's series of fantasy novels 'A Song of Ice and Fire.'
3. Better Call Saul (AMC)
The prequel to 'Breaking Bad' follows how a small-time attorney Jimmy McGill turns himself into a morally challenged lawyer Saul Goodman.
4. The Deuce (HBO)
The series explores birth and evolution of sex trade in America. It also tells the tale how was the life of sex workers in '70s New York City.
My 10 Favorite TV Shows of 2017

1. Rick & Morty
2. Game of Thrones
3. Better Call Saul
4. The Deuce
5. The Keepers
6. Handmaid's Tale
7. Godless
8. Fargo
9. Silicon Valley
10. Narcos

— James Gunn (@JamesGunn) December 6, 2017
5. The Keepers (Netflix)
Netflix's latest docuseries revolves around the tantalising mystery of the unsolved murder of Cathy Cesnik, a beloved nun and Catholic high school teacher in Baltimore.
6. The Handmaid's Tale (Hulu)
The series tells the story of life in the dystopia of Gilead, a totalitarian society in what was formerly the United States. Facing environmental disasters and a plunging birth rate, Gilead is ruled by a twisted fundamentalism in its militarised 'return to traditional values'. As one of the few remaining fertile women, Offred (Elisabeth Moss) is a Handmaid in the Commander's household, one of the castes of women forced into sexual servitude as a last desperate attempt to repopulate the world.
7. Godless (Netflix)
Notorious criminal Frank Griffin (Jeff Daniels) and his gang of outlaws are on a mission to seek revenge on a former member of his gang, who's found a new life in a quiet town populated only by women.
8. Fargo (FX)
The comedy-crime drama turns interesting when an insurance salesman Lester Nygaard joins hand with a drifter Lorne Malvo in search of a killer.
9. Silicon Valley (HBO)
Set amidst the high-tech world of the Silicon Valley in the USA, the series revolves around the struggles of six programmers who are trying to make a mark in the big, bad world of programming.
10. Narcos (Netflix)
José Padilha's thrilling crime-drama is about the rise and fall of the notorious kingpin and anti-hero- Pablo Escobar. A show set in the 1970s will take you through the actual life of Escobar, with archival footage and action that makes you feel like you played a part in history too.