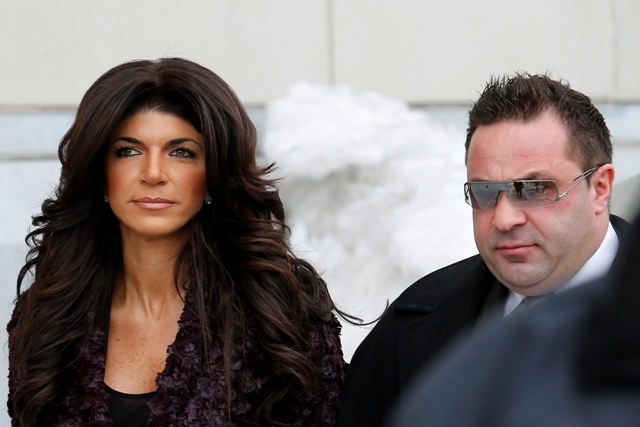 Teresa Giudice might yet be grappling with the fact that she could actually go to jail, but if a new report is to be believed then she wouldn't have to sweat it out as her prison time could be a total vacation for the "Real Housewives of New Jersey" star.
Giudice will begin serving her sentence on 5 January, and Radar Online claims that she could be housed at the minimum-security Alderson Federal Prison Camp.
"Teresa's advisors have told her that she will most likely go to Alderson because the other women's federal prison in Connecticut—Danbury—is transitioning to housing men only," a source told Radar Online. "Danbury is much closer to Teresa's family in nearby New Jersey, but the length of her prison sentence will probably rule it out."
The Alderson Federal Prison Camp is dubbed "Camp Cupcake," and it sits on 159 acres overlooking West Virginia's Greenbrier River, and inmates, most of whom are convicted of white-collar crimes, are housed in cottages.
The camp offers a number of facilities to its inmates, and Giudice could spend her time taking part in yoga and cooking classes. However, it won't be a complete vacation as she would have to do the recommended manual labour that includes prison laundry and picking up trash.
The report noted that Giudice is yet to come to terms with the fact that she will be behind bars, and has even refused to find out more about Alderson.
"Teresa refuses to even look at any of the material regarding Alderson," the source said. "She is hoping she will get a last-minute reprieve, but that isn't going to happen. The sooner Teresa accepts it, the better it will be for her."
The only flip side is Giudice wouldn't be able to visit with her kids on a weekly basis as Alderson is in West Virginia.
"Still, Teresa has been told by her lawyers that Alderson would actually be a much better fit for her than anywhere else, as the prison doesn't even have barbed wire around it, and it's minimum security," the source added.
There is no word on where Giudice's husband Joe will complete his 41-month sentence. But his attorneys have reportedly requested that he be sent to a facility where he could complete an alcohol abuse programme.
Last Thursday, Giudice pleaded guilty to mail, wire and bankruptcy fraud and Joe pleaded guilty to tax fraud.