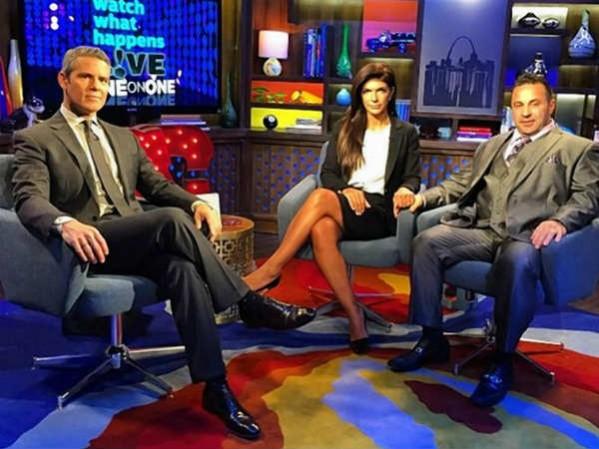 Reality stars Teresa Giudice and Joe, who were sentenced to 15 and 41 months imprisonment respectively in a conspiracy and bankruptcy fraud case, have broken their silence after the judgement on 2 October. The first part of their interview with Andy Cohen on "Watch What Happens: Live" was aired on Monday, 6 October.
In the interview, the couple has pointed fingers at their legal team over their jail terms. Giudice and Joe said that they felt their lawyers would defend them in the court and ensure that they got lesser punishment. The 'plea deal' was their lawyers' idea, which seems to have backfired, believe some legal experts, who feel that the imprisonment could have been avoided in this case.
"I thought my lawyer was going to fight for me," The Hollywood Reporter quoted Giudice as saying. "That's why you hire an attorney — you put it in their hands."
"The Real Housewives of New York" star explained that she hasn't spoken to her legal team since the sentence was pronounced.
Meanwhile, Joe said that he was surprised by the judgement as his wife had no role in his business. He agreed for the plea deal in order to protect her from getting severe punishment. The lawyers had anticipated a 10-year imprisonment for them if they were found guilty even on one count, and this is said to have forced the couple to agree to the deal.
Joe admits that it was his mistake to include his wife in illegal transactions. He explained that he used her name in the bank loans as she had a better credit rating. "I felt like I got hit in the back of the neck with a baseball bat," he said when asked about the jail terms that the couple has to serve.
Giudice said that she is not scared about the jail and her only concern is their children. The American TV personality claimed that their elder daughter Gia understands what they are going through and hopes that their four daughters would visit her at least once a week after her sentence begins on 5 January 2015.