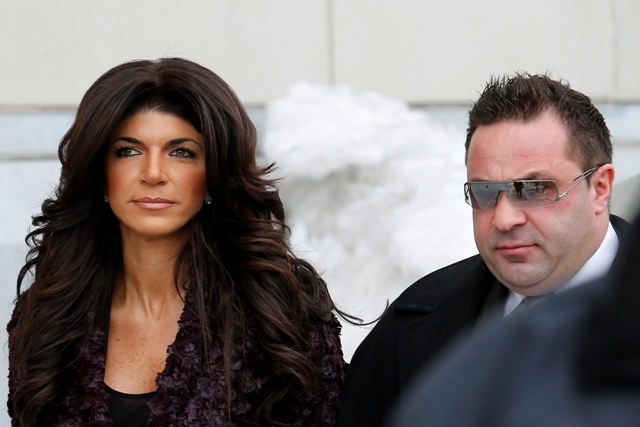 Rumours of tension between the Giudices – Joe and Teresa – have been doing the rounds for a while, and all this time it was speculated that Teresa would be filing for divorce from Joe.
However, there is a new twist to the drama. According to a Radar Online source Joe is the one who is attempting to break off all relationships with his wife. The reason for the split is Teresa's alleged diva demands, which has reportedly prompted Joe to take this dire step.
He has hired an attorney and will file for divorce once Teresa starts her prison sentence sometime in January, reported Radar Online.
"Joe always felt pressure from Teresa to have the biggest house, best clothes, and luxurious vacations," a source told the publication. "While Joe does take responsibility for his role in the bankruptcy fraud case, it was all done under the pressure he felt from Teresa."
The divorce is expected to be "very straightforward as there are no financial assets to split up," the source said. "They owe more than $13.5 million to creditors, and there is just no money coming in. When it comes to child support, Joe will take care of the kids financially but Teresa will be on her own."
Reportedly, Teresa is aware of Joe's plans to divorce her, but she is yet to take it seriously.
"She simply shrugged it off!" the source said. "She is absolutely living in denial about going to prison, so Teresa doesn't think Joe would ever leave her, or file for divorce."
Meanwhile, the couple is busy keeping up appearances of living a lavish lifestyle so that their children are shielded from the troubles they are facing.
Although Teresa and Joe have no money coming in, sources told Us Weekly that their daughters, Gia and Gabriella, are still asking for lavish Christmas gifts.
"Gia wants a Cartier bracelet and Louis Vuitton luggage" for Christmas, while Gabriella's desires include "a trip to Disney World and the Apple watch." The source also noted that Teresa "thinks backing down from a $1,200 pair of shoes to a $400 pair is roughing it. There's a real disconnect," reported Hollywood Take.