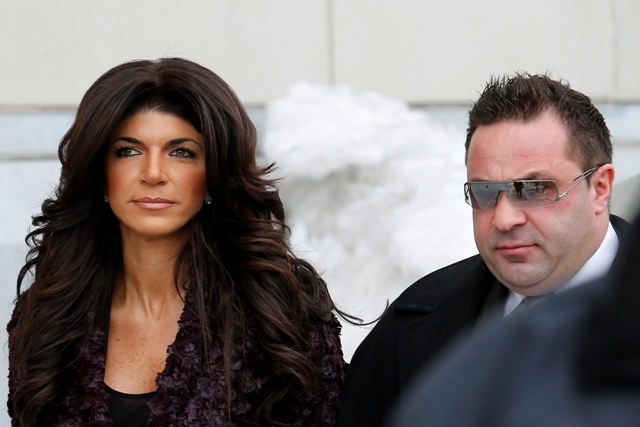 Reports of "Real Housewives of New Jersey" star Teresa Giudice being assigned to Connecticut's Danbury Federal Camp, the institution that's the basis for "Orange Is The New Black," has been termed untrue by the Bureau of Prisons, according to a new report.
On Wednesday afternoon, several reports claimed that Giudice's plea to spend her prison sentence in a halfway house was denied, and instead she has been asked by Judge Ester Salas to serve her 15-month prison sentence at Danbury.
"Judges have no jurisdiction in where someone is assigned," a Bureau of Prisons official told RadarOnline.
Reports have it that Giudice's lawyer had asked the judge to recommend to the Bureau of Prisons that the reality show star's first choice would be Danbury.
"The recommendation of the judge is always taken under consideration, certainly," the official said, noting that efforts are always made "to keep an inmate within 500 miles of their residence, to accommodate family visits."
The official added that Giudice has no say in where she is housed, and that the Bureau will notify her sometime in December. The decision on where she will be housed will be based on a number of factors, which include prison vacancy and Giudice's probation report.
The Radar Online report further noted that Giudice could be ordered to surrender either Danbury or Alderson in West Virginia.
Interestingly, Piper Kerman, the author whose memoir inspired "Orange Is The New Black" was also sentenced to 15 months at Danbury after being convicted in a money laundering case.
Last year, Kerman opened up to the Huffington Post about life at Danbury saying the prison offers inmates the freedom to walk around. "You're not locked into a cell. The doors to the buildings are not locked, so you can walk in and out without waiting for a guard to let you.
"But it's prison. They tell you when to get up, when to go to bed, when to eat -- it's institutionalized," she said, adding that most of the guards are men.
"One of the dynamics which I think is so striking in a woman's prison is that the vast majority of prison guards are men, and they have close to 100 percent control over the lives of prisoners. That can be very weird, particularly for a woman who's had a certain amount of authority over her life," she noted.
Besides "Orange Is The New Black," Danbury has been mentioned in several other series such as Weeds, Sopranos, and CSI: NY.