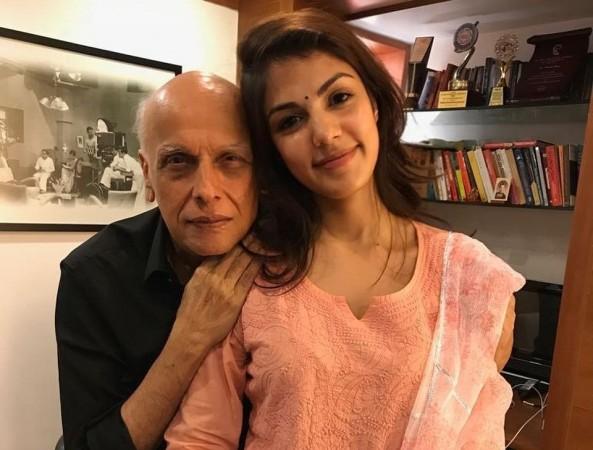 Actress Rhea Chakraborty was mercilessly trolled for uploading cozy pictures with filmmaker Mahesh Bhatt while wishing him on his 70th birthday.
Trolls even compared the two with the romantic relationship between 65-year-old bhajan samrat Anup Jalota and his 28-year-old girlfriend Jasleen Matharu saying that girls are falling for old men now. Many found their closeness inappropriate and made obscene comments.
After going through all the nasty and hate comments, Rhea has now given a befitting reply to trolls with a hard-hitting Instagram post.
Sharing yet another picture with Mahesh Bhatt, Rhea wrote on Instagram, ""तू कौन हैं , तेरा नाम हैं क्या ? सीता भी यहाँ बदनाम हुई ! " "Tu kaun hain , Tera naam hain kya ? Seeta bhi yahaan badnaam hui !" If the trolls can hurl muck and filth of their minds , which comes out of their depraved souls , then all our claims of having moved away from the dark ages are bogus . Hey guys , don't you know you see the world AS YOU ARE , not AS IT IS !"
Meanwhile, on the eve of his 70th birthday, filmmaker Mahesh Bhatt announced his much-anticipated and speculated return to direction. Bhatt will be directing the sequel to his 1990's landmark film Sadak.
The film will see Sanjay Dutt, Pooja Bhatt, Alia Bhatt and Aditya Roy Kapur uniting on the big screen for the first time. The Bhatt sisters will also be uniting with their father for the first time for a film.
Sadak was not only a commercial blockbuster but also went onto achieving cult status. The movie etched itself in people's hearts as one of the greatest love stories of all time.
With his trademark candor and brutal honesty, Mahesh Bhatt describes the feeling of being back in the driver's seat as director for Sadak 2. "Like the spider gets its thread from his own guts. The narrative of Sadak 2 is pulled out from my lived life. It's a film about living, loving and dealing with the anguish of the loss of a loved one," he said.
Mukesh Bhatt adds, "Though I have made so many films in the 32 years of Vishesh Films, Sadak has a very special place in my heart because it's one of the most iconic hits of my career. My gladiator Mahesh Bhatt is back to perform in the arena once again. Sanjay Dutt and him have a magical past and they share a bond which is beyond professional understanding. With Alia coming on board,Pooja being there and my daughter Sakshi, who is the co-producer of the film - The three sisters will be seen performing important roles. I feel it is a very emotional moment for me to see this happening. Sadak is not just a project for me, it is very close to my heart. I know this journey will be the most fulfilling experience that I have had in so many years as a filmmaker and I am looking forward to it."
A Mukesh Bhatt Presentation of a Mahesh Bhatt Film, Sadak 2 is a Vishesh Films Production and is slated to release on March 25, 2020.