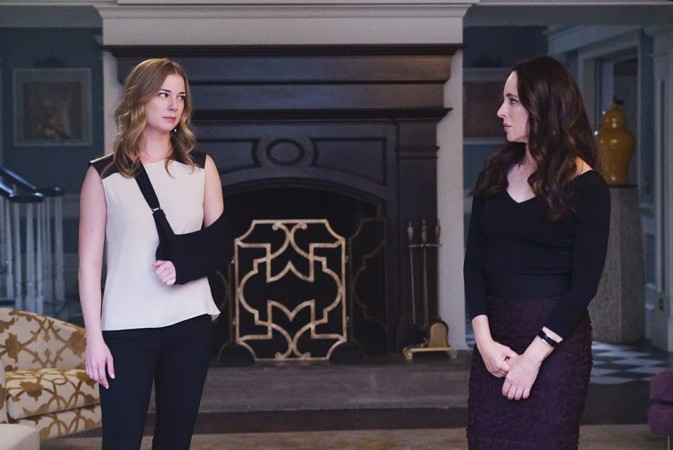 ABC will air "Revenge" season 4 episode 19 titled "Exposure" on Sunday, 12 April, at 10pm and it will revolve around Emily Thorne/Amanda Clarke (Emily VanCamp) and Victoria Grayson's (Madeleine Stowe) feud.
As the title suggests, the protagoanist will be exposed to the world by her most powerful enemy in the next sequel of the prime-time series.
Although trailers of episode 17 titled "Loss" indicated the beginning of a new friendship between the rivals, it ended up teasing a battle between the two. In episode 18 titled "Clarity", viewers will get a glimpse of the feud and the real fight will be addressed in episode 19.
As per the official synopsis of next sequel, Emily will face a promising future as Amanda until Victoria uncovers devastating new secrets from her past.
Meanwhile, sneak-peek images of "Exposure" show Daniel Grayson's mother spending quality time with Margaux LeMarchal (Karine Vanasse) and Louise Ellis-Ross (Elena Satine). So it remains to be seen how the Grayson family's powerful matriarch plans her retaliation against the old enemy.
In the mean time, actor Benjamin Schrader is seen in some of the promotional photos, but episode description and cast list have no mention about the new character in the show. Since he is portrayed with Victoria, "Revenge" fans can assume that he is a new member in team Grayson.
The 19th episode of season 4 will also have sequences of Jack Porter (Nick Wechsler), Ben Hunter (Brian Hallisay), David Clarke (James Tupper) and Nolan Ross (Gabriel Mann). However, viewers will have to wait until 12 April to know more about their roles in ABC drama.
Until then, they can tune in to the cable network for Sunday night's episode titled "Clarity", which will be live-streamed here.