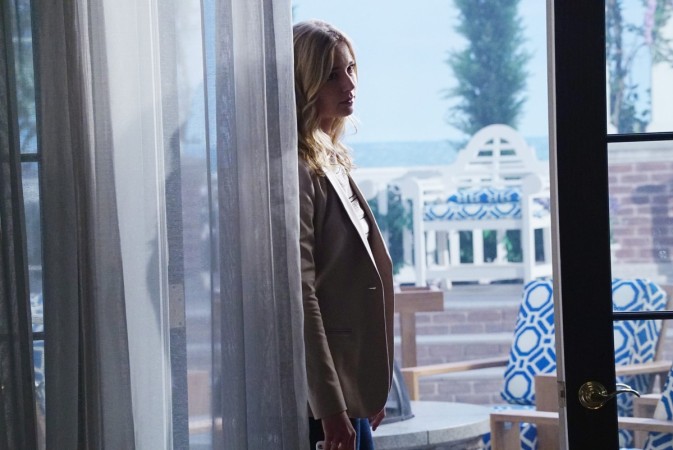 "Revenge" fans might get a clear picture about the love triangle between Emily Thorne/Amanda Clarke (Emily VanCamp), Ben Hunter (Brian Hallisay) and Jack Porter (Nick Wechsler) in season 4 episode 18 titled 'Clarity'.
People close to Thorne had to struggle a lot due to her retaliation and when the show returns on ABC with episode 17 titled "Loss", the protagonist makes it clear that she does not want to see terrible things happen to her friends.
As per the official synopsis of episode 18, which is scheduled to be telecast on Sunday, 29 March, a grief-stricken Thorne will try to repair her collateral damage.
Although the description does not reveal more details about the damage, it could be about Porter's arrest and if so then David Clarke's (James Tupper) daughter might reconsider the legal guardian's proposal.
Even the sneak peek images of 'Clarity' show the childhood friends spending time with each other during a function organised by Southampton Medical Centre.
In the photos they appear to be pretty happy together and Hunter does not seem to be part of the party. So viewers can expect to watch their favourite power couple sharing screen space with each other in the upcoming episode.
However, Thorne and Porter are not out of danger as the pictures show Margaux LeMarchal (Karine Vanasse) planning her next move against them with new partner White Gold (Courtney Love).
Meanwhile, Victoria Grayson (Madeleine Stowe) will pursue a fresh lead with renewed vigour on 29 March. "Revenge" fans can tune in to ABC this Sunday, 22 March, at 10pm, for some thrilling sequence between David's daughter and Daniel Grayson's wife, which will be live-streamed here.