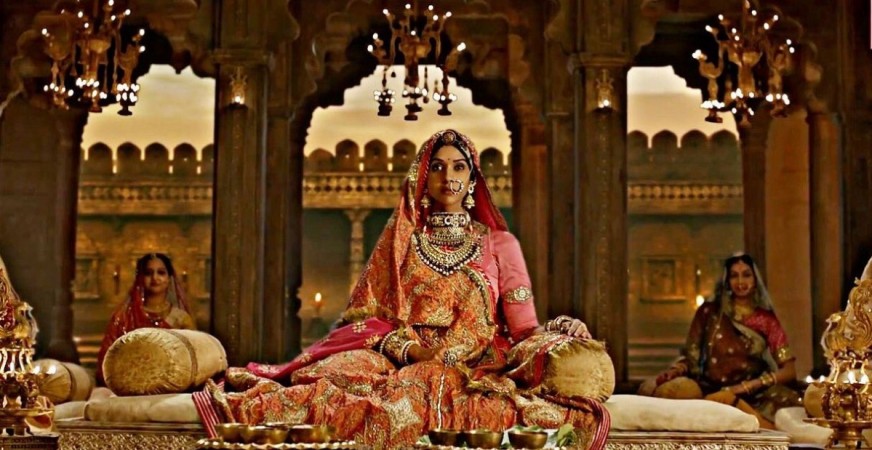 The Ghoomar song from Sanjay Leela Bhansali's Padmavati is a visual treat. From the stunning dancers to the huge sets, the song has mesmerised everyone.
Deepika Padukone looks gorgeous as Rani Padmavati when she dances to the Rajasthani folk number, and Shahid Kapoor looks dashing as Maharawal Ratan Singh. But apart from these two actors, there was another one who captured everyone's attention.
Also Read: What is Jauhar? Things to know about the horrifying tale and why it was practised
In the song Ghoomar, a Rani (queen), wearing heavily embellished saree, is seen sitting and watching Rani Padmavati's dance in the courtyard, while Maharawal Ratan Singh watches from a chamber in the fort. But who is the Rani and why is she an important part of the film?
The Rani in the scene is none other than Maharawal Ratan Singh's first wife Rani Nagmati, played by actress Anupriya Goenka.
According to reports, Rani Nagmati and Rani Padmavati didn't get along too well. But they performed Jauhar together after Alauddin Khilji attacked the kingdom of Chittorgarh.
Anupriya, who plays the character of Rani Nagmati, is a known face and acted in several movies and ads. She made her debut in the entertainment industry with a Telugu film Potugadu in 2013.
She later played minor roles in recently released Arjun Rampal-starrer Daddy and Varun Dhawan and John Abraham-starrer Dishoom. But she is most known for featuring in India's first lesbian advertisement.
Padmavati is Anupriya's first big project with Sanjay Leela Bhansali. Confirming the same, she shared the trailer of Padmavati on Instagram and thanked the director for giving her the chance of portraying the character of Rani Nagmati.
"Feeling so so blessed and overwhelmed sharing this. Really blessed to have got an opportunity to essay #Nagmati and to be a part of this film, which is so close to my heart. Having learnt so much from the genius #Sanjayleelabhansali, working with a super talented cast and crew.. can never thank Sanjay sir, Deepika, Shahid, Sudeep Chatterjee, Abhiruchi, Doyel Hargunaney Shruti Mahajan and many others, enough, for making this experience so special for me and for supporting me and teaching me so much along the way," she wrote on Instagram.
Padmavati, starring Ranveer Singh, Deepika and Shahid, will release on December 1.