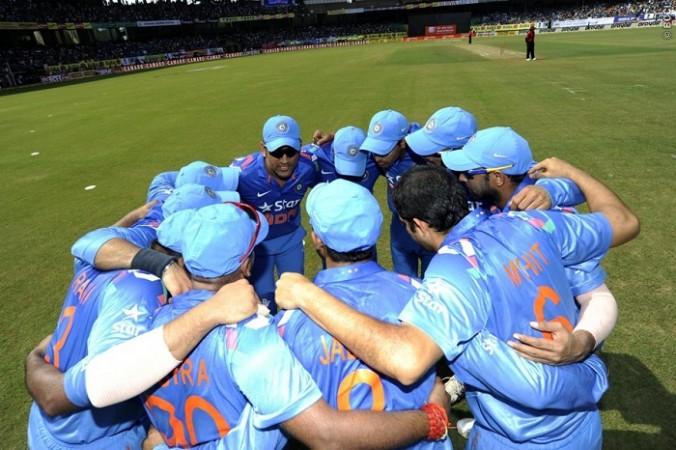 India will be wearing a cool blue for their title defence, but they will look to turn those blues into red hot form when the World Cup hits Australia and New Zealand in under a month.
The Team India kit for their World Cup title defence was revealed in Melbourne on Thursday, and it will certainly be the "Men in blue" again.
Led by MS Dhoni, India, shorn of much of the team that helped them to their first World Cup title in 28 years in 2011, will look to defend their crown when the biggest ODI tournaments of them all gets underway from 14 February.
"There has been constant interaction between Nike and the players," Dhoni was quoted as saying by BCCI's official website. "We all gave them our inputs and a lot of them have been passed. The product was already great and this is just an improvement on the previous one. It looks good."
Dhoni revealed he had a few inputs to give as well over the kit, inputs which have been taken on board by Nike and actually inculcated into the jersey design.
"The front part -- the strands that are drawn in the front are out of our national flag [the 24 lines in the Ashok Chakra] and it gives a bit of a feel to it," added Dhoni.
"You know what you're supposed to do when you're playing for your country but this touch just reiterates the fact. I am glad that Nike has put it in the shirt."
Virat Kohli, India's vice-captain, is someone who is always fashion-conscious and the right-handed marauder said he only had one specific to give to the new kit makers.
"One thing that I have stressed on for the last couple of years is the fit," he said. "I like the shirt that fits nice and snug.
"That's something Nike has done this time around and I am really pleased it's been done. As sportsmen if you're fit, you should have clothes that make you look good as well."
Of course, to round it all off, the kit had to be environment friendly, something India's off-spinner R Ashwin gave his thumbs-up to.
"I have been told that the one pair of shirt and trousers is made out of 33 plastic bottles in all," said Ashwin.
"We feel socially responsible as a unit wearing this kit and doing our bit for the environment. So, in that regards, I am really proud of what Nike has given us."