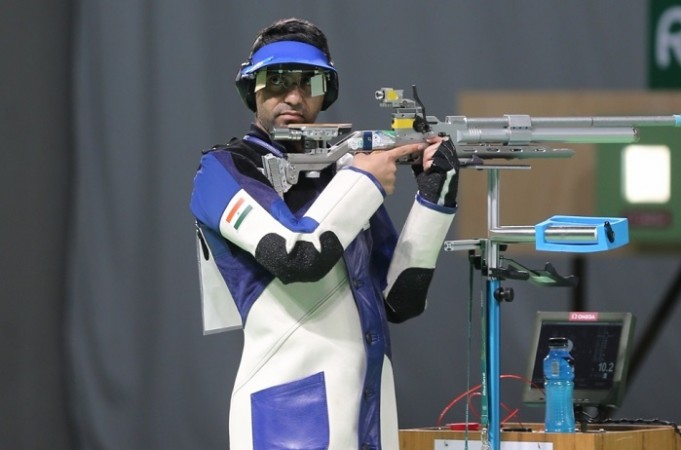 Abhinav Bindra officially announced his retirement from the sport of shooting on Sunday during a felicitation ceremony organised by the National Rifle Association of India (NRAI), and India's only individual gold medallist in the Olympics spoke about life after shooting, India's need to create a sporting culture and how the country can become a dominant power at the Games.
Bindra came close to signing his career off with an Olympic medal, missing out on bronze by a whisker in the 10m air rifle event in Rio 2016, and while that disappointment will stay with the Indian for a while, the veteran sounded content when announcing his retirement.
"I came fourth in Rio and now retiring after playing for two decades," Bindra said while reading out a prepared speech. "In Rio, I didn't win a medal and stood fourth but it gave me a great closure."
Closure, though, for India will never come unless they start winning medals consistently – not just silver, bronze or gold here or there – at the Olympics, and that is something the great shooter himself understands. Imploring the various sporting organisations, corporate companies and more to spend some money on infrastructure and encouraging youngsters to take up sport as a career, Bindra was quite clear in what he believes is necessary for the country to become a turn into a sporting superpower.
"I would like Indian sport to grow and I think that can be only possible if we are able to invest in grassroots and set up programmes and systems for people to come in and join sport," Bindra added. "That requires investment, that requires expertise, it also requires a lot of patience, and it also requires will."
Another important factor is time, something very few people seem to have, well, time for. "When you start to invest in grassroots it's not something you are going to get payback or returns immediately," Bindra said. "You might get a return in 10 to 20 years, so you need to have that ability to persist.
"I think that is the only way we could develop as a country and we could at one point of time win double digit Olympic medals."
Further elaborating on the subject, Bindra said the importance of making sport a family pastime, something that everyone can enjoy. Can you imagine a family choosing to play a bit of badminton or tennis over a Salman Khan blockbuster? Bindra doesn't, not yet at least.
"I think the real breakthrough will come when sport becomes a social activity, when a family choose sport over a movie on a Sunday afternoon and go and involve themselves in the sporting activity," the 33-year-old shooter said. "Not for competition but to have fun, when that starts to happen that is the real breakthrough and I think we are far away from that."
While you sense Bindra will have some role to play in moulding India's sporting culture, retirement also brings a sportsman opportunities, opportunities to try your hand at different things and making a success out of a different career.
"I am trying to earn a living," Bindra said. "I am involved in business, trying to earn a living, put food on the plate. Well I am interested in sport but sport you know is not going to give me much money. I am involved in certain things, which is to do with fitness, doing something on the medical side, and I am also trying to do something on high performance side of sports.
"The role of sports science, sport medicine is incredibly important in modern day sport. We can't do without it. I don't think the whole concept is actually strong enough in our country."