Indian cricket team's fielding coach R Sridhar pointed out that MS Dhoni has found quite a lot of success with his "unique" way of wicketkeeping behind the stumps.
Sridhar also stressed that there is a lot of things to learn from the Ranchi stumper's style and thus it qualifies for research. He labelled Dhoni the 'best gloveman' as far as keeping to spinners is concerned.
Also read: MS Dhoni eyes biggest career landmark in 5th ODI
Dhoni went past 400 dismissals as wicketkeeper in ODI cricket during India's 124-run win over South Africa in the third ODI of the ongoing six-match series in Cape Town on February 7.
Also read: Virat Kohli and MS Dhoni always back me, says Yuzvendra Chahal
He became only the fourth man after Kumar Sangakkara (482), Adam Gilchrist (472) and Mark Boucher (424) to reach the milestone.
Across all formats, Dhoni has 771 dismissals, the third highest in international cricket after Mark Boucher (908) and Adam Gilchrist (905).'
'The Mahi Way'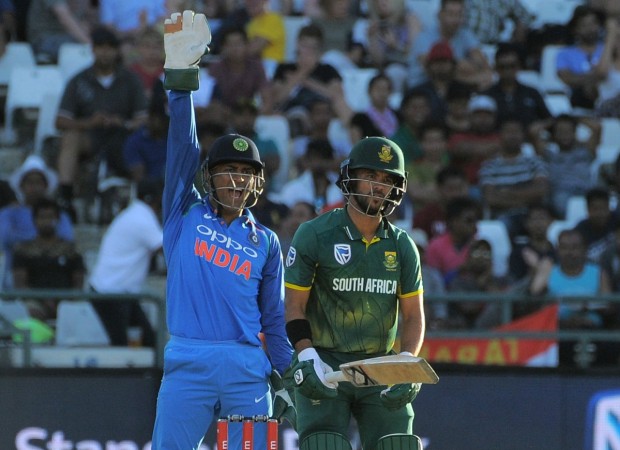 Nonetheless, Dhoni is on top of the charts when it comes to stumpings in ODIs with 106 dismissals. Given his quick reflexes from behind the stumps, the staggering number should not come as a surprise.
"Dhoni has got his own style, which is so much success for him. We can do a research on his style of wicketkeeping. I would like to call it the Mahi-way," Sridhar told the media on Monday, the eve of the fifth ODI between South Africa and India in Port Elizabeth.
He added: "There are so many things for young wicketkeepers to learn from that, so many things that other wicketkeepers may not be even able to contemplate.
"He is unique in his own way, that is exactly how cricketers should be.
"He has got great hands. He is definitely the best gloveman as far as keeping for spinners goes. His hands work at the speed of lightning, for stumpings we all know that. That is something which is very innate to him and great to watch."
Dhoni's role behind Kuldeep, Chahal's success in South Africa
Sridhar's comments come as Kuldeep Yadav and Yuzvendra Chahal have been heaping praise on wicketkeeper Dhoni. Notably, the former India captain's constant chatter has been heard on the stump mic throughout the ongoing series, especially when the spinners are operating.
Notably, Kuldeep and Chahal have picked up 24 wickets from four matches between them as India are leading 3-1 in the ongoing series and are on the brink of an unprecedented series win in the "Rainbow Nation".
Kuldeep even went on to say that Dhoni does 50 percent of the spinner's work with his ability to anticipate the batsmen's movements.