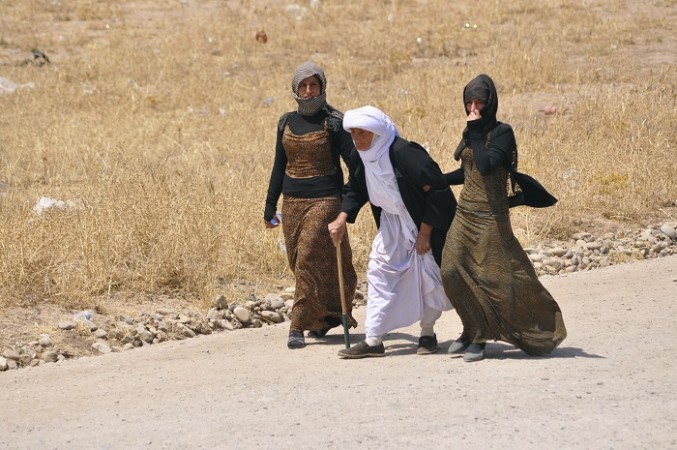 Some of the several thousands of Yazidis trapped in the Sinjar mountains in northern Iraq have reportedly been rescued, while efforts are underway to help the rest.
It is estimated that over 40,000 people, including 25,000 children, have been hiding in the mountains between Sinjar and Tal Afar, without food or water. They have been facing a hard time caught between the choices of dying out of starvation or being executed by the Islamic State militants.
However, reports have emerged that some of the refugees have now been rescued in an operation overseen by the United Nations.
"We are just receiving the information right now. We haveve just heard that people over the last 24 hours have been extracted and the UN is mobilising resources to ensure that these people are assisted on arrival," ITV quoted UN Spokesman David Swanson as saying.
Meanwhile, there are also reports that the Kurdish forces from Iraq, Syria and Turkey are coordinating an operation in northern Iraq to reclaim the areas lost to the jihadists, in an effort to rescue the Yazidis, according to France24.
The biggest challenge for the refugees stuck on the mountains is the absolute lack of drinking water, which has claimed 40 lives till now.
On Wednesday, the Iraqi government had airdropped aids for the refugees but several water bottles cracked open after hitting the ground, The Washington Post reported.
According to the UNICEF, the refugees stranded in the mountains, including the 25,000-plus children, are in immediate need of assistance.
"The children and the elderly cannot stand the lack of food and water and the aid doesn't reach all the families who have taken refugee on the mountain," a witness informed local news source Rudaw.
It has been now over four days that the refugees have been hiding out in the Sinjar mountains, without food and water.
Twitter updates
Heartbreaking photos from #Sinjar Mountain...#genocide and #ethnic #cleansing unfolds again #IS #TwitterKurds #IDPs pic.twitter.com/WfZeCgPlTf

— Shivan Fazil (@ShivanFazil) August 6, 2014
The mother of Tal Afar, a #Turkmen protect her children from the terrorists on the banks of the mountain in Sinjar! pic.twitter.com/e8O1z3O0W5

— Mehdi ALbayati (@mehdimuhtaroglu) August 5, 2014
#Sinjar mountain in the hands of thirst in the head with an empty plastic glass to stone backdrop of Turkmen children pic.twitter.com/38ZdPuLIXa — Mehdi ALbayati (@mehdimuhtaroglu) August 4, 2014
#Iraqi Yzedi elder tells me from Sinjar mountain that thousands have climbed to escape IS fighters - no food, no water and no safety.

— jane arraf (@janearraf) August 4, 2014
A frantic call from a friend who has fled Sinjar and is on the mountain with his family. "no food, no water, no peshmerga…." #Iraq #Yezidis — Jacob Russell (@jmrp09) August 4, 2014
Thousands of Ezidi Kurd families have fled their home & some of them are stuck in Sinjar mountain #PrayforEzidiKurds pic.twitter.com/sx394Zs3z9

— Karez (@karez1103) August 3, 2014