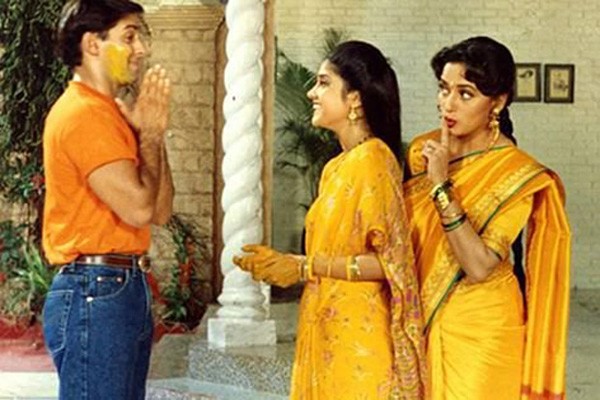 Bollywood actor Salman Khan was acquitted of all charges in the blackbuck and chinkara poaching cases on Monday. And it goes without saying that his fans and followers were happy with the Rajasthan High Court's verdict.
After the verdict, several Bollywood celebrities took to social media to congratulate the actor, who walked free in the 1998 poaching cases. However, actress Renuka Shahane had a rather sarcastic take on the entire issue. Renuka, who played Salman's bhabhi (sister-in-law) in "Hum Aapke Hain Koun..!" took a dig at the actor.
In a Facebook post, which went viral on Monday evening, Renuka asked several questions about the other actors who were also accused in the poaching case. The post went viral with more than 2,000 shares and over 6,400 likes.
Read below what the actress had to say about the entire issue:
In 1998 a Black Buck & 2 Chinkaras (that are endangered species & therefore cannot be killed) were allegedly killed on a hunting trip that included Salman Khan, Saif Ali Khan, Amrita Singh, Tabu & Sonali Bendre. Somehow while the 'mor' was 'naaching' in their 'hivdas' they wanted to shoot some endangered animals. And they did & ate them too. But did they? Out of all only Salman was charged for killing a black buck & a chinkara. He also served time for the same in Jodhpur jail. No charges were framed against the others. The case carried on & on & on as our cases do for two main reasons 1) Having big bucks (sometimes even black bucks....different from the Black Buck who passed) or 2) Not having big bucks. Salman of course falls in the 1st category of big bucks ( I don't know their colour & we should not be racist by commenting) So now after 18 years he has been acquitted of charges in both cases. Some questions come to mind 1) Who killed the Black Buck & the Chinkaras? 2) Did the driver kill them? 3) Did nobody kill them? 4) Do judges decide according to Buckworth-Lewis method? ( What? Er...it's Duckworth-Lewis?) Sorry! 4) Who will pay for the mental torture that Salman has had to go through now that he has been declared not guilty? 5) Doesn't the nation want to know the truth? ( preferably very loudly) What? The nation doesnt want to know? No? Why? Oh you don't say.....busy spending bucks on Sultan....Er....then let it pass....yeah the Buck, what else? Dear, deer! Surreal!!