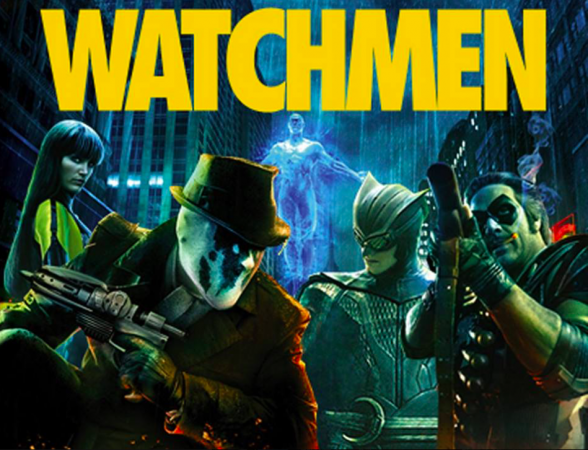 DC Comics' Watchmen is again going to enter the pop-culture world — but not as a thriller film but as a live-action TV series on HBO.
According to HBO's website, Watchmen is set for a 2019 release. The announcement also teased the possibility of Regina King, Don Johnson, Tom Mison, Andrew Howard and Sara Vickers starring in the upcoming Damon Lindelof project.
Damon Lindelof is famous for creating some award-winning shows like Lost, Crossing Jordan, Star Trek Into Darkness and The Leftovers. Earlier this year, Lindelof talked about Watchmen and how it will differ from the provided source material.
Created by Alan Moore, Dave Gibbons, and John Higgins for DC Comics in 1986, Watchmen is set in an alternate reality that resembles the world of the 1980s. The only difference between these two worlds is the presence of superheroes. The story showed the U.S. winning the Vietnam War in 1971 and Richard Nixon in the presidency as of October 1985.
Check out the released teaser look of the upcoming TV series:
As per Lindelof, "We have no desire to 'adapt' the 12 issues Mr. Moore and Mr. Gibbons created 30 years ago. Those issues are sacred ground and will not be retread nor recreated nor reproduced nor rebooted."
He added that the previously written material will surely be remixed.
"The bass lines in those familiar tracks are just too good and we'd be fools not to sample them. Those original twelve issues are our Old Testament. When the New Testament came along, it did not erase what came before it," he added.
This would not be for the first time when Watchmen's story will be materialized on the celluloid. Back in 2009, Zack Snyder directed the film adaptation of much-acclaimed comics. The film featured an ensemble cast of Billy Crudup, Matthew Goode, Carla Gugino, Jackie Earle Haley, Jeffrey Dean Morgan, and Patrick Wilson. It was made against a budget of $130 million but only managed to earn $185.3 million at the worldwide box office. The film also received a mixed response from the fans and critics alike.
After Game of Thrones season 8, Watchmen and Westworld 2 will be among HBO's next big projects and fans from around the world are pretty excited to see what HBO and Damon Lindelof has in store for everyone.