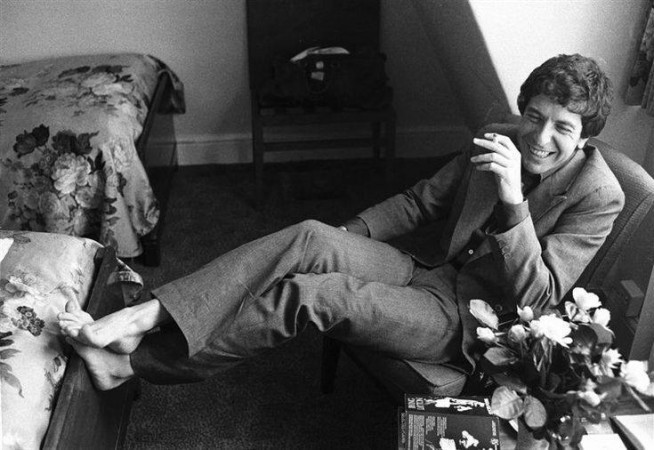 Leonard Cohen, the enigmatic Canadian singer, songwriter, poet and artist passed away at the age of 82, it was announced on Thursday. Cohen, who rose to fame for his song Hallelujah, added an edgy, sensual touch to the North American folk music.
Born in 1934 in Montreal, Canada, Cohen's first book of poetry got published in 1956. His journey as a folk singer began since 1960 and his first album Songs of Leonard Cohen was released in 1967.
He was inducted into the Rock and Roll Hall of Fame in 2008. He was also conferred with a Grammy Lifetime Achievement Award in 2010.
Let's pay a tribute to the godfather of gloom with our picks of some of his best songs.
1. Suzanne (1967)
Cohen first single track from his debut album Songs of Leonard Cohen was a tribute to his friend named Suzanne Verdal. The song began as a poem and was first recorded by Judy Collins in 1966.
2. So Long, Marianne (1967)
Marianne is one of his most gorgeous songs. The song is about one of his most famous muses Marianne Jensen whom he met on the Greek Island of Hydra in 1960 and he swore that she was the most beautiful woman he would ever met.
3. Hey, That's No Way to Say Goodbye (1967)
"Hey That's No Way To Say Goodbye" is one of the most tender breakup songs ever written. This is song which is marked of a relationship not exactly doomed by emotional estrangement but by circumstances.
4. Sisters of Mercy (1967)
Sisters of Mercy is such an enduring song in the world of pop music. And, this is one of those few songs that he has written in a single sitting.
5. Bird On The Wire (1969)
It's another simple country tune was initially recorded by Judy Collins, is a soul-baring plea for redemption. This song has been his favourite and staple for the every concert he covered.
6. Joan of Arc (1971)
Joan of Arc is a six-and-a-half-minute song from 1971's Songs of Love and Hate — conceived as a sort of farewell monologue for the young French martyr in the final moments of her life.
7. Famous Blue Raincoat (1971)
Famous Blue Raincoat's plot revolves around Cohen's old raincoat which had been stolen in the early 1970s. The song, which is written in the form of a letter, has captivated every single listener.
8. Hallelujah (1984)
This has become a modern day hymn across the globe, even for those people who never heard of Leonard Cohen before. While 1984 became an amazing time for pop singers like Madonna, Prince and others, then Hallelujah became an absolute sensation.
9. Tower of Song (1988)
As one his greatest compositions, Tower of Song is Cohen's love-letter to his craft. In 2008, when he was inducted into the Rock and Roll Hall of Fame, then he read a few line from his 1988 classic Tower of Song.
10. A Thousand Kisses Deep (2001)
Another popular tune by Cohen where his tired and weary baritone gave it a punch and the lyrics refer to the joys of life.