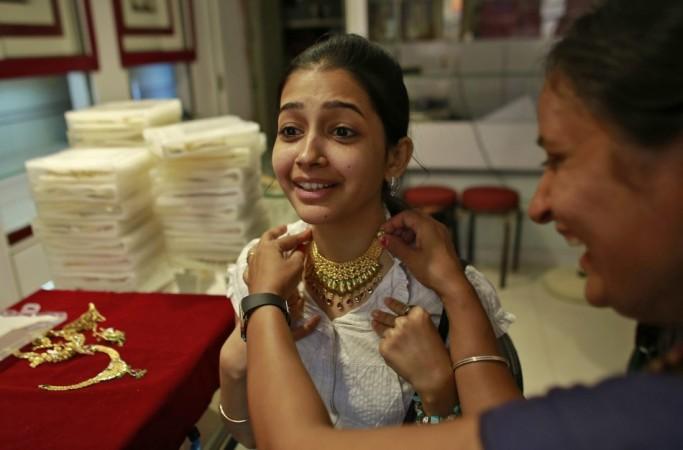 Despite Indian Finance Minister P. Chidambaram's oft-repeated appeal to desist from buying gold, there is hardly any decline in gold sales across the country and the minister should realise that it was sine-qua-non to his budget beset with huge increase in daily taxes that had hit the country's massive middle class.
Moreover, he is not appealing to the women who constitute a major chunk of the country's gold-buyers and as the usage goes, Indian women forfeit their husbands over their gold jewellery. By seeking their cooperation to his 'golden' appeal, the minister is rather trespassing his position as the government representative since this amounts to interference of the government in people's individual preferences, especially the women and their centuries-old gold sentiment and faith in gold as an asset.
Unfortunately, what the Indian middle class is now doing is what the Indian government did in 1991 when forex reserves were completely drained out. Then finance minister Yashwant Sinha went begging around Asia for help but was finally asked to mortgage our gold reserves in London for immediate relief. Gold still has that value and no finance minister can ignore it. The same rule applies to any household as the government may anytime impose restrictions on financial instruments and their validity. Though gold may fluctuate artifically as is now, it still has immense asset reserve element that attracts the middle class.
Chidambaram may be right when he said the impact was on every aspect of Indian economy such as the current account deficit, trade deficit, and inflation. Isn't the country's heavy taxation, which according to a study accounts for 65 percent of any salaried man's purchasing power in the country, jacking up prices and inflation in turn?
"People think that they are buying gold in rupees, actually they are buying gold in dollars... If for one year there are no gold imports, it will change the current account deficit story of the country," reasons the finance minister. It is true that gold is second only to crude oil in the country's imports list. The forex outgo on gold imports was $15 billion in the first two months of 2013-14. Alarming indeed, but no solution in sight despite the 8 percent import tax on gold.
Chidambaram is doing what a finance minister should typically do but a man or a woman on the street, especially from the country's great middle class, would first buy gold and repeat it again when the so-called financial instruments yield so little as they are tied to tax and service tax and sales tax and all such taxes by the government.
As finance minister, he would impose tax on AC restaurants where the office-going and middle-class families go once a month for eating out and with service tax at 12 percent, the bill mounts to thousands of rupees. So, the ordinary man pays tax and gets taxed and finally resists eating outside, thanks to pro-rich and pro-poor Chidambaram's Fiscal Policy 2013-14. The rich, anyway, don't bother about taxes and the poor never pay taxes but the salaried middle-class people pay tax from the moment they get up from the bed as their toothpaste is taxed and end up paying tax even during their nightly sleep as the mosquito repeller is equally or heavily taxed by Chadambaram's service tax or VAT.
Moving ahead, Chidambaram says financial instruments are better than gold. But it is not true; gold still has that safety shield attached, more than any instrument which cannot be pledged easily in the loan market like gold that generates the instant three-minute loan.
With the share market down, real estate is fast emerging as the next best option for the middle class but here too multiple taxation system has derailed the sector's potential and made it a distant dream for many. Chidambaram did announce in the budget of 2013-14 some measures but with strings attached.
Hence, the middle class is heavily investing in gold knowing that it is currently volatile. Though some bonds and certificates provide 10 percent interest, the final return was badly taxed at every point making it 6 percent finally. And then one has to pay more in the form of annual tax and wealth tax or service tax and more as cess.
A glance at the rapidly increasing number of gold loan shops on our streets should convince Chidambaram that gold is a better collateral anytime in human evolution. A villager with no bank account or collateral land will get easy gold loan in three minutes everywhere, including the scheduled banks.
When disasters affect common citizens, more than the government and its banks, people and money-lenders land at the location and give loans with gold as collateral. The answer to this lies in financial inclusion and not in curbing gold buying spree in the country. Gold remains a common man's saviour forever.
To be precise, even if the government fails to pay huge foreign debts, it will have at least huge gold stocks in every citizen's hands, which may not be the case if the United States or any European nation goes bankrupt.