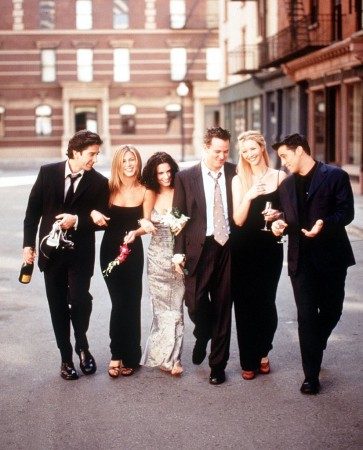 It has been more than one and half decades since popular sitcom Friends concluded. However, such is the popularity of the show that fans still tune in every time it's aired on TV.
The TV show was in news again recently when it began streaming on Netflix UK and Twitter couldn't stop discussing it.
Also read: 7 types of friends EVERY friends group has
While there were several popular moments that makes Friends a fan favourite, the show also featured a few popular songs that fans recall.
Most popular of them all is The Rembrandts' I'll Be There for You. The song, also used as the title track of the show, currently has 6.2 million views on YouTube. Fans still sit through the title track to synchronise their claps to the popular three-clap set at the start of the show.
Another popular song that was featured on the show was The Lion Sleeps Tonight. For fans who don't recall the title, the song starts with the lyrics: "In the jungle, the mighty jungle, the lion sleeps tonight."
The song became popular thanks to Marcel the Monkey. Ross's pet monkey loved the song and in one of the episodes, the characters – Ross, Joey and Chandler – are seen grooving to the song.
Also, a famous song that several fans were introduced to through the show was Sir Mix A Lot's Baby Got Back. The song was used by Rachel and Ross in an attempt to make Emma laugh.
Here are a few other hit numbers:
Chris Isaak's Wicked Game: This song was played when Ross and Rachel make love in the planetarium.
U2's song With or Without You featured on the show when Ross and Rachel were "on a break."
Tune in to Comedy Central to watch all the episodes of Friends as it celebrates its 6th birthday. All episodes will air back-to-back for five days straight starting January 19, 11am onwards.