Vodafone and Idea Cellular officially completed their merger in India, making Vodafone Idea Limited India's number one telecom service provider by adding 408 million new subscribers to the base. The official announcement was made by Adithya Birla Group on Twitter, but the witty admins for Vodafone and Idea Twitter accounts decided to have a little fun.
Idea started a chain of humorous tweets when it first said: "Hey, @VodafoneIN you know they're all talking about us." The reference was clearly towards the long-standing merger between two major Indian telcos.
To that, Vodafone quickly responded and said: "Yeah @Idea. It's time we made it official." Well, that's one way to make an announcement that will grab Twitter users attention, and it did more than that.
Reliance Jio, which is known for its disruption in the Indian telecom industry, decided to barge in and share a piece of its humour. When Reliance Jio participated, it was only time before Airtel jumped in with another quirky response. At the end of it all, users had a ball seeing these conglomerates poke each other with humour.
Let us show you how the war of tweets unfolded between the telcos and who dropped the mic in the end.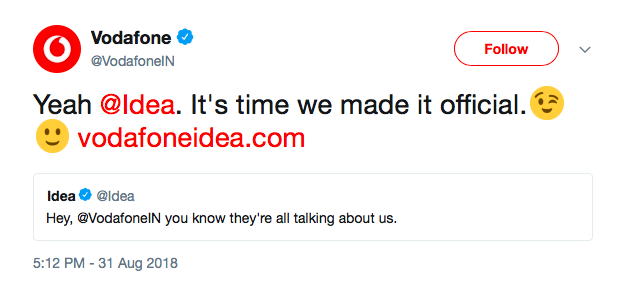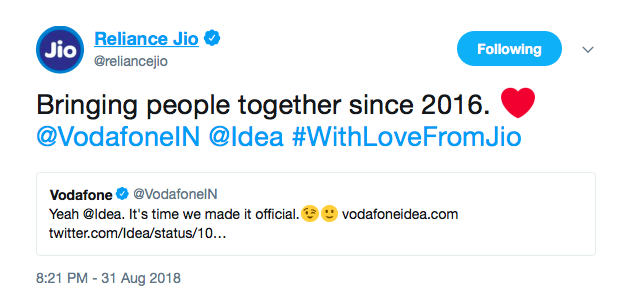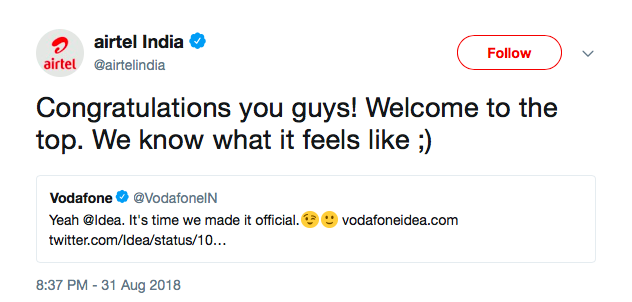 Vodafone decided to have the final with a sarcasm heavy tweet.
While telcos were at each other's tails, Reliance Jio's JioCare handle made a run for Vodafone users, who were complaining about the service.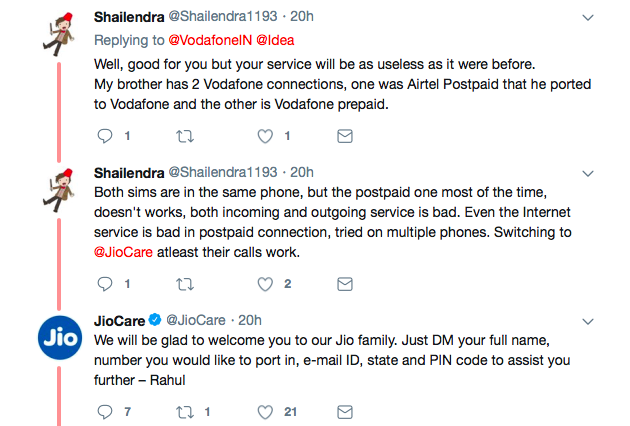 Who do you think gave their best in this Twitter war that took place on Friday.