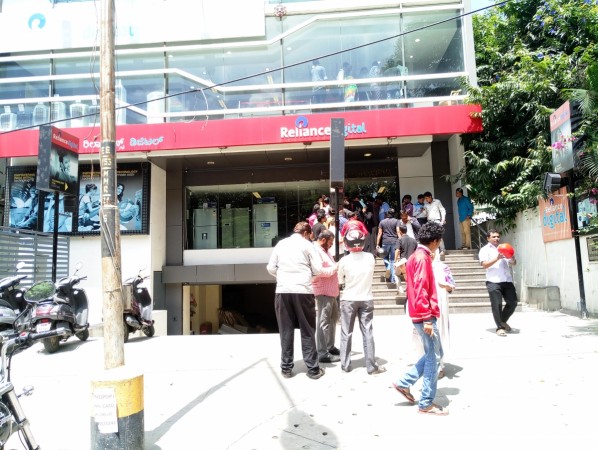 Reliance Jio is dominating the telecom industry with its appealing welcome offer of unlimited data, calls and SMS until Dec. 31, 2016. Once the free period comes to an end, Reliance Jio's disruptive tariffs will kick in, which have got the incumbent rivals worried. The demand for Jio SIM cards is growing day by day as consumers line up outside Reliance stores to get their free connections.
You can imagine the rush to get a Jio SIM, which comes with unlimited high-speed 4G data, voice calls and SMS without any cap free for almost four months. Hundreds of people are queueing outside Reliance Digital, Xpress and Xpress Mini stores and thousands of requests are being registered for new Jio SIMs every day.
While some stores are taking advantage of this demand to sell free SIM cards at a premium, others are issuing tokens to manage the crowd. Jio SIM card scarcity has led to a imbalance in demand and supply. The activations are also suffering due to the mounting number of new connections on a daily basis.
Reliance stores are jam-packed even before they open gates in the morning. People are spending hours just to get their Jio SIM card, as it is now available to all smartphones. But these long queues are also turning away some customers.
Buyers who are unwilling to wait for their turn to get the free Jio SIM card can cut the queue short by purchasing a new device bundled with a free Jio connection. For instance, all LYF smartphones come with Jio SIM cards, and customers can easily bypass the long queues outside the stores to get their Jio connection up and running.
If you are not planning to get another smartphone just for a Jio connection, there is another alternative. Reliance Digital stores are also selling JioFi hotspot device, which connects multiple devices to Jio's network at once. While it supports up to 31 simultaneous connections, the company advises that users could use up to 10 devices for the service to work seamlessly.
The JioFi is a tiny device, which can easily fit inside your pocket or a backpack, so you can carry it anywhere and use Jio internet services via Wi-Fi. It is also the cheapest option to get a Jio connection and costs just Rs. 1,999. JioFi was originally priced at Rs. 2,899, but the price was permanently slashed after the AGM meeting on Sept. 1.
Using JioFi, users can also make calls using JioJoin HD voice and video calling app to any mobile for free.
It is also worth noting that the wait for Jio SIM cards won't last for long as the company will find a way to increase the supply. The commercial launch of Jio is set for Jan. 1, 2017, and Jio will ensure nationwide availability of its SIM cards without any hassles. The all-new eKYC process will also be in place soon, which will let you walk out of a Reliance store with a working connection in less than 15 minutes.