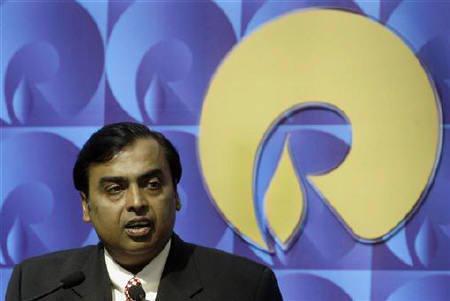 Markets are eagerly awaiting the release of Q4 results of Reliance Industries Ltd (RIL) on Friday, as investors remain keen to assess the impact of higher refinery margins on the overall profits of country's second largest company by market capitalisation.
The Mukesh Ambani-controlled company is estimated to post a net profit of 5% for the last quarter of fiscal year 2014-15, on the back of improved gross refining margins (GRMs). GRM is the difference between the price of crude oil and the price of products made by refining the crude oil.
With higher GRM, company's refinery division is expected to post a new record quarterly profit. Profits from refinery segment accounts for more than 50% of the company's overall profit.
RIL is likely to post a standalone net profit of Rs.5,931.5 crore in Jan-March quarter and net sales of Rs.64,455.1 crore, Livemint said citing a Bloomberg poll of 16 analysts.
"Driven by an improvement in refining margins by $2.7 per barrel to $10 per barrel, the fourth-quarter standalone net profit is set to jump to a record high of Rs 5,920 crore. We expect the refining Ebit (earnings before interest and tax) to rise over 50% quarter-on-quarter, to Rs 4,860 crore," Vikas Kumar Jain of CLSA, told Business Standard.
Analysts expect net sales of RIL to decrease sharply in the March quarter as a result of lower crude and product prices in the refining and petrochemical segment. RIL's net sales stood at Rs 95,193 crore in the March quarter of 2013-14.
Brent crude oil prices have been under pressure since June last year, falling 50% on oversupply issues, and averaging $54 per barrel in the fourth quarter.
However, earnings from petrochemicals segment are likely to remain muted in the quarter. Petrochemicals segment occupied 20.7% of company's revenues in 2014.
"The petchem segment is expected to report flat Ebit (earnings before tax) in Q4FY15 at Rs 21 billion, implying a margin of 11.5% even as petchem revenue would decline on account of the correction in petrochemical prices," said Religare Capital Markets Ltd in a report on 10 April.
RIL operates in four major segments such as petroleum refining and marketing, petrochemicals, oil and gas production and retail.
On the oil and gas production front, analysts expect the production levels to remain unchanged domestically and at company's US shale gas operations.
Hit by falling crude oil prices, the stock price of RIL fell to a 52-week low of 796.45 on 30 March, before recovering to 929.55 on 16 April on the National Stock Exchange (NSE).
"We see the recent weakness in RIL's stock price as an opportunity to 'buy' as the price adequately factors in concerns about a potential erosion in earnings/valuation from the imminent start of telecom services and weaker economics of ongoing core-business projects in a lower crude price environment," Kotak Institutional Equities in a report, told Business Standard.