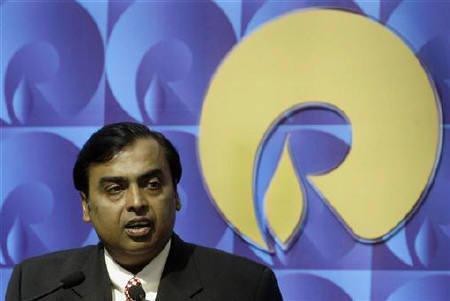 Reliance Industries Ltd (RIL) is planning to invest over ₹2 lakh crore in its core oil and petrochemicals business over the next 12-18 months and roll out 4G telecom services by December, its chairman Mukesh Ambani said on Friday.
"This will place Reliance in a select group of most valuable companies in the world," Ambani told shareholders at the company's 41st annual general meeting in Mumbai.
RIL was the most profitable company in the country last fiscal, outstripping Oil and Natural Gas Corp. Ltd (ONGC) and Tata Consultancy Services Ltd (TCS).
The Mumbai-based RIL, which has a presence in many sectors, posted a record annual profit of ₹23,566 crore in 2014-2015.
Ambani also announced plans to increase the output in core businesses and scale up presence in new ventures such as retail and telecom, The Hindustan Times reported.
The 4G LTE smartphones that will be brought to India will cost less than ₹4,000, he said.
Ambani intends to increase the coverage of 4G services nationwide in the coming three years. The 4G mobiles will come with HD television, video on demand, music, news and magazines, he said.
Currently, Reliance Jio, which is operating in 29 states, will expand services to cover 80 percent of the country's population this year, Ambani said.
Ambani expects to launch beta version of 4G services in the next few months before commercializing the operations by December.
"I am glad to announce that financial year 2016-17 will be the first full year of commercial operations for Jio," he said.
The industrialist also said that Reliance Jio has applied for "pan-India cable television multi-system operator (MSO) license" and aiming to foray into broadcast TV distribution.
Leading foreign brokerages Goldman Sachs and CLSA expect RIL to post net profit of over ₹35,000 crore in 2016-17. However, RIL's profit may be weighed down by its $14 billion venture in telecom space.
"RIL's telecom venture could be a major drag on the company's profitability as we are expecting the company to post losses for at least five years," Livemint quoted the vice-president of institutional equities at a domestic securities firm, who did not want to be named, as saying.