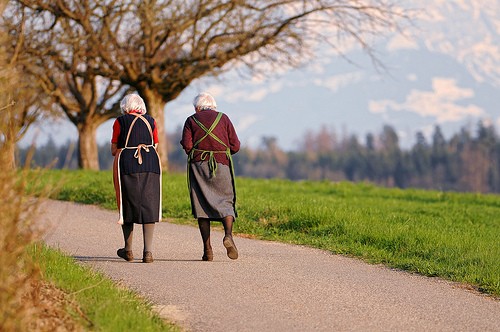 Engaging in regular physical activity can help lower breast cancer risk in postmenopausal women, a new study from France reveals.
In the study, women who spent at least four hours a week for walking achieved about 10 percent reduction in the risk of developing invasive breast cancer. Interestingly, even recreational physical activity provided similar results.
"Twelve MET-h [metabolic equivalent task-hours] per week corresponds to walking four hours per week or cycling or engaging in other sports two hours per week and it is consistent with the World Cancer Research Fund recommendations of walking at least 30 minutes daily," researcher Dr Agnès Fournier, from the Institut Gustave Roussy, France, said in a news release.
"So, our study shows that it is not necessary to engage in vigorous or very frequent activities; even walking 30 minutes per day is beneficial."
For the study, researchers followed nearly 59,308 postmenopausal women for many years. After eight years, 2,155 women were detected with invasive breast cancer. Researchers interviewed the women to find out the prevalence of physical activity among them.
The health benefits persisted only with continuous physical activity. Women who were physically active earlier but discontinued and remained inactive for about five years had 16 percent additional risk of developing breast cancer than women who made regular walking part of daily life, The Telegraph reported.
"The decreased breast cancer risk we found associated with physical activity was attenuated when activity stopped. As a result, postmenopausal women who exercise should be encouraged to continue and those who do not exercise should consider starting because their risk of breast cancer may decrease rapidly," Fournier, said.
The study reported in the journal Cancer Epidemiology, Biomarkers & Prevention supports another research reported in the same journal last year. At that time, researchers found that sparing nearly 7 hours per week reduced risk of developing breast cancer by 14 percent.
The findings come at a time when breast cancer claimed nearly 70,218 Indian lives in 2012. About one in 28 women develop breast cancer in India, according to latest research.
Previous data shows that breast cancer is more prevalent among urban women than rural women. A study released in 2009 looked at 1,866 breast cancer patients from Kerala and Tamil Nadu and compared them to 1,873 controls. The study found that breast cancer risk declined with an increase in the total time spent on household activities.