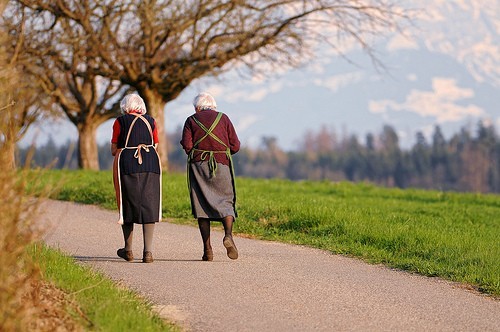 Women in post-menopausal stage can reduce the risk of developing breast cancer by walking for an hour daily, new research reveals.
A woman is considered to be post-menopause if she does not get her vaginal bleeding or periods for nearly one year.
The study published in the journal Cancer Epidemiology, Biomarkers & Prevention, looked at 73,615 post-menopausal women, aged between 50 and 74, who enrolled in the Cancer Prevention Study-II Nutrition Cohort, between 1992 and 1993. The participants completed questionnaires at the beginning of the study and every two year between 1997 and 2009.
Information about the total time spent on various physical activities (walking, swimming, bicycling or exercises) and leisure time activities (reading or watching TV) was collected and recorded. Based on that, the total energy spent by the women every week was calculated.
Nearly half the number of participants (47 percent) reported regular walking, while a minority (9.2 percent) reported not engaging in any particular activity. About 4,760 women in the study developed breast cancer.
Researchers found that sparing nearly 7 hours per week reduced risk of developing breast cancer by 14 percent, while spending less than three hours per week for walking or any kind of physical activity increased the risk. Highly active women had 25 percent reduced risk of breast cancer.
"Our results clearly support an association between physical activity and postmenopausal breast cancer, with more vigorous activity having a stronger effect," Dr. Alpa Patel, senior epidemiologist at the American Cancer Society (ACS) in Atlanta, GA, said in a news release.
"Our findings are particularly relevant, as people struggle with conflicting information about how much activity they need to stay healthy. Without any other recreational physical activities, walking on average of at least one hour per day was associated with a modestly lower risk of breast cancer. More strenuous and longer activities lowered the risk even more."
According to the World Health Organization (WHO), lack of physical activity is the sole cause of poor health in old women. They recommend women to engage in enough physical activity to prevent cardiovascular diseases, diabetes, osteoporosis (a disease that makes bones fragile, at higher risk of being broken easily), breast cancer, to manage anxiety, stress, depression and to improve self-esteem.
Breast cancer is one of the leading causes of death among women across the globe. Previous studies have identified several factors like having a large breast size, working night shifts, undergoing fertility treatments at a young age, giving birth to large babies, alcohol consumption during teenage years and having multiple babies via IVF escalated the risks of women developing breast cancer.
Following are some tips from Mayo Clinic in the US to reduce risk of developing breast cancer:
Quit smoking
Breastfeed baby
Manage weight gain and maintain healthy weight
Remain physically active
Try to avoid hormone therapy for menopausal symptoms or limit the dose
Stay away from radiation- Undergo tests like computerised tomography only in unavoidable situations