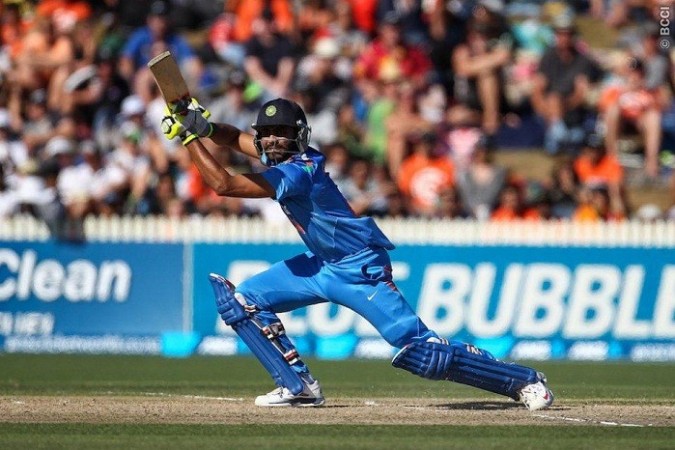 All-rounder Ravindra Jadeja has sent a strong message to the Board of Control for Cricket in India's (BCCI) selectors. The left-hander has joined an elite group of batsmen by smashing six sixes in an over.
Jadeja, who is currently not part of the Indian limited-overs team, blazed his way to a 154 off 69 balls in an Inter-District Twenty20 match conducted by the Saurashtra Cricket Assocition (SCA) recenty, "PTI" news agency reported last night (December 15).
The 29-year-old, playing for Jamnagar against Amreli, hit left-arm medium paceman Nilam Vamja for 36 runs in one over. This was in the 15th over of the match. Jadeja had 10 sixes and 15 fours in his 154-run innings. He was run out in the 19th over.
Jadeja is the third left-hander in world cricket to hit six sixes in an over. West Indies' legend Sir Garfield Sobers was the first, followed by Indian all-rounder Yuvraj Singh. Ravi Shastri, Herschelle Gibbs and Misbah-ul-Haq are the batsmen to have achieved this rare feat of hitting six sixes off six consecutive balls.
Sobers and Shastri hit six sixes in first-class matches while Gibbs made his name in an ODI during 2007 World Cup agianst The Netherlands. Yuvraj did it against England in 2007 World Twenty20 while Pakistan's Misbah joined others in a Hong Kong T20 Blitz this year.
Jadeja has played 35 Tests, 136 ODIs and 40 T20Is for India. Thanks to his record-equalling feat, Jamnagar won by 121 runs. They posted 239/6 in 20 overs and restricted Amreli to 118/5 in 20 overs.
Batsmen who have hit six sixes in an over
1. Sir Garfield Sobers
2. Ravi Shastri
3. Herschelle Gibbs
4. Yuvraj Singh
5. Misbah-ul-Haq (six sixes off six consecutive balls)
6. Ravindra Jadeja