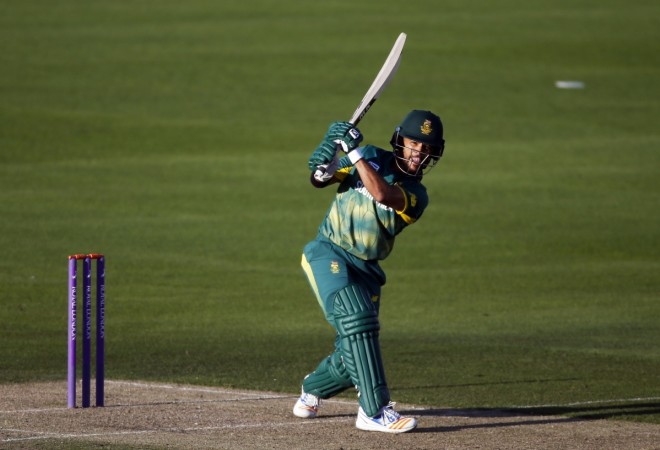 South African left-hander JP Duminy entered record books as he blasted five sixes in an over on way to plundering 37 runs off the bowler during a domestic 50-over match.
He has timed his knock well as the Indian Premier League (IPL) 2018 Players Auction is set to take place on January 27 and 28 in Bengaluru and he is part of it.
Also read: 1,122 players sign up for IPL auction
Captain Duminy smashed unbeaten 70 off 37 balls for Cape Cobras to lead his team to a eight-wicket bonus-point victory over the Knights in a Momentum one-day match on Wednesday (January 17) at Newlands stadium, Cape Town. Cobras scored 245/2 in 37 overs in reply to the opposition's 239/9.
Recently, at the same ground, South Africa had beaten Virat Kohli-led India by 72 runs to win the opening Test of the three-match rubber.
The 33-year-old hit legspinner Eddie Leie for 37 runs (1 no ball) in the 37th over of the match. He went from 34 to 70 not out to wrap up the contest in style. Leie had forgettable bowling figures of 1/90 in seven overs.
Duminy hit 6, 6, 6, 6, 2, 5 (4+1 no ball) and 6. This is a List A (50-over) record in South Africa for most runs scored in an over.
Overall Duminy's feat is the second best in the format after 39 runs were scored by Zimbabwe's Elton Chigumbura off Alauddin Babu of Bangladesh in a Dhaka Premier League (DPL) 50-over game in October 2013.
For South Africa, Herschelle Gibbs held the record earlier when he had smashed six sixes in an over against The Netherlands at ICC World Cup 2007. He had hit Dan van Bunge for 36 runs.
"It is not every day you get the opportunity, so of course I was trying to go for the six sixes in an over. I initially thought it was all about the bonus point. I looked up at the scoreboard and we needed 35 with four overs still to go to get the bonus point, so I just decided to take Eddie on," Duminy, who has played 46 Tests, 179 ODIs and 73 T20Is, was quoted as saying after the match.
"I was striking the ball really cleanly, and when the first two went for six, I figured I might as well give it a full go now because regardless whether I get out we would still have secured the bonus point. It was enjoyable," he added.