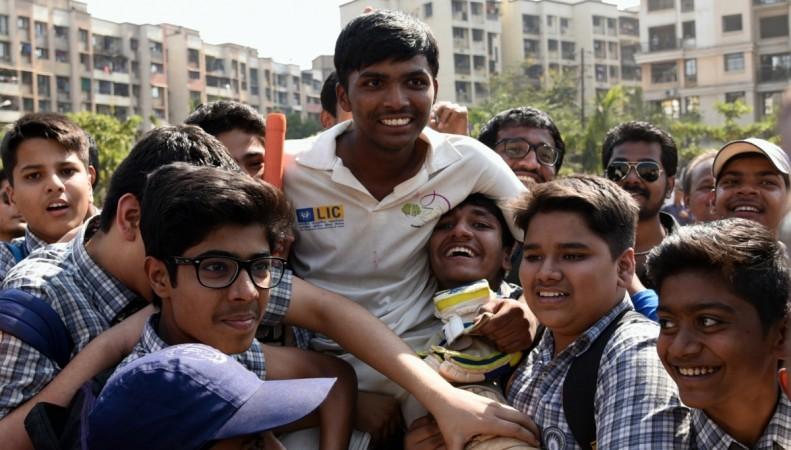 Pranav Dhanawade, a 16-year-old record-holding cricketer from Kalyan, and his father were detained by the police after they protested against a Union minister's helicopter from landing at Subhash Maidan.
Dhanawade and his team were practising on the ground on Saturday evening when they were told by the police to vacate the premises since Union HRD minister Prakash Javadekar's helicopter was supposed to land there. Javadekar was supposed to attend two events in Kalyan and Bhiwandi to visit two Urdu schools.
The police misbehaved with the cricketer, who had made a record by scoring 1,009 runs in a single inning, and his father and tried to charge them under a false case.
Dhanawade told TOI, "After practice, we were doing stretches, which takes about five minutes. During that time two cops, including sub-inspector Kadam, told us to immediately vacate the ground."
He asked the police why a sporting ground was being used for a political leader's landing pad. He asked the police to let them finish the stretching exercises after which the police, Kadam, abused the cricketer and slapped him.
His father, Prashant, protested against the cop's abuse. Kadam and another policeman in civilian clothes carted the father and son into a police jeep.
"The children were playing at the ground when the policemen asked them to leave. While the children requested them to let them carry on with their fitness practice for a couple of minutes, the police denied their request. Pranav was just standing there with the other children, and I too was present. The other children asked the police why the ground was chosen for the helipad instead of other places. They also asked for a notice or a copy of a written order from the police. When the argument heated up, we were both dragged to the police station in a police jeep. The Senior Police Inspector at the station abused us. It was only after the Assistant Commissioner of Police came to the police station, that we are asked to leave," Prashant was quoted saying to DNA.
Pranav alleged that the police said they would teach the duo a lesson at Bazarpeth police station. He added that the senior police inspector Dilip Suryawanshi hurled abuses at them. He told other policemen to book the father and the son.
The HRD minister said that he cancelled his visit while he was still in the helicopter and that Pranav was right and the police were mistaken.