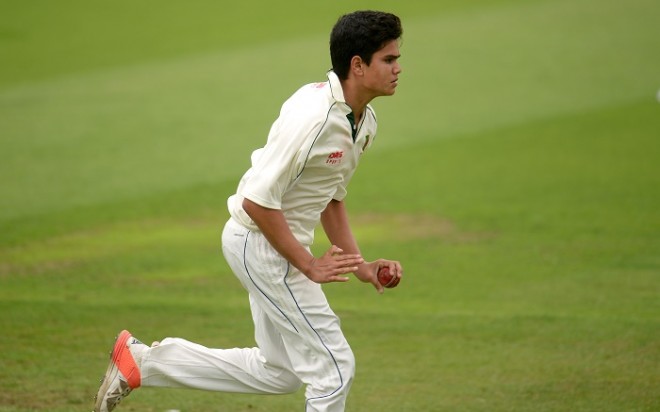 Arjun Tendulkar, son of the legendary Sachin Tendulkar, was preferred over Pranav Dhanwade, who carved his names in the history books earlier this year, in the U-16 West Zone squad for the inter-zonal cricket tournament. People became so much critical about this decision that they went on to slam junior Tendulkar on social media for all the wrong reasons.
Dhanawade is getting a lot of praise from people in the social media platforms, but the Mumbai Cricket Association joint secretary PV Shetty had a different say altogether. He said that Dhanawade has to score runs in order to make it to the squad and consistency will be a key.
"I cannot say about the zonal selection, but we cannot pick him in the Mumbai probables too unless he scores runs. We haven't heard about him after he scored those 1,000 runs. But we will definitely include him if he starts scoring consistently," Shetty was quoted as saying by DNA.
Dhanawade has not scored a lot of runs after his memorable knock of 1009 runs, which, it must be said, was against a second-string side. Dhanwade's coach Mubin Sheikh even dropped him for a match.
"After that knock, we haven't had enough time to work on his game. That 1000 was followed by 150. However, the final is yet to take place. He then got busy with his Class 10 exams. He managed a few 40s after that including a 45 that came against seniors in a club game. That knock against the big boys was better than the 1000-run feat for me," Sheikh said.
Sheikh also went on to say that it is unfair to bring in this type of comparison between Arjun and Dhanawade as they are friends and have also played together for MIG. Even Sachin Tendulkar had congratulated Dhanawade after that historical knock of his on Twitter.
"It is unfair to both the kids. Pranav and Arjun are friends and have played together for MIG. Arjun is a good cricketer. It all the more sad considering his father has done the country proud so many times. One should not indulge in these thoughts," Sheikh added.
Dhanwade's family and his coach are not really bothered about him not getting selected for the U-16 West Zone squad. In fact, the coach has said that there's a lot of time left for him to improve his game and then the question of selection can arise.
"I heard there is a lot of talk about Pranav's non selection in the West Zone U-16 squad, but we are not sad and not even thinking about it. In cricket, you cannot talk about things that are not is our control," Sheikh said.
"However, he still has time. Maybe another two years to even make it to the U-19 team. We don't need to pressurise him. Just let him enjoy the game."
Here are some the tweets on this issue: