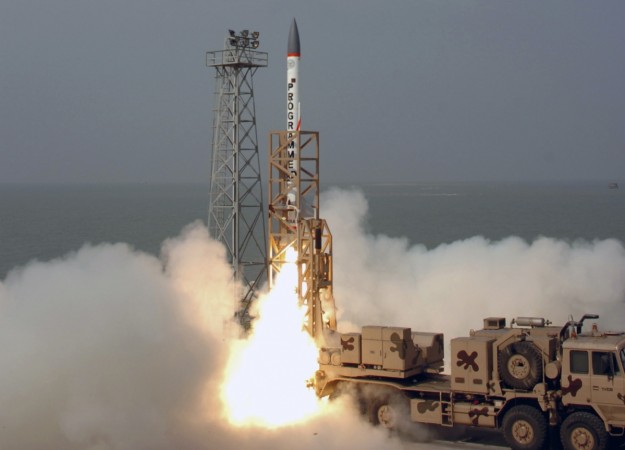 The recent test-firing of the Indian supersonic Interceptor missile, which was part of the Defence Research and Development Organisation's (DRDO) multi-layered Ballistic Missile Defence system, was not successful, despite claims to the contrary by the organisation, The Hindu reported, citing informed sources.
The report noted that the Interceptor missile never took off to intercept the modified naval variant of Prithvi missile that was launched from a naval ship and that it simply fell into the sea.
DRDO had earlier tested the Interceptor missile on May 15, which, PTI reported, had successfully "killed" an incoming "enemy" missile mid-air. "The test conducted to validate various parameters of the interceptor in flight mode has been successful," PTI had quoted DRDO sources as saying.
The Hindu, meanwhile, quoted sources as saying, "Post-flight analysis is going on. We do not know whether there was problem in detecting the missile, whether radars tracked it and communicated it to the interceptor," .
The report also recalls failures of the Interceptor missile in April 2015, when the missile fell into the sea seconds after lift-off, and in April 2014, when the Interceptor's warhead failed to explode when it hit the "enemy" missile.
The Interceptor test had evoked concern from India's neighbour Pakistan. Sartaj Aziz, the Adviser to Pakistani Prime Minister Nawaz Sharif on Foreign Affairs, was quoted by Radio Pakistan as saying that they wanted to take up the matter at an international level and that Pakistan would "definitely acquire" advanced technology to boost its defences.
Now with reports of the Interceptor's failure, it has to be seen if India would fast-track acquisition of the famed Russian air defence system, S-400, which can neutralise modern and advanced missile targets at a distance of up to 400 km. India is expected to buy up to five units of the missile systems.