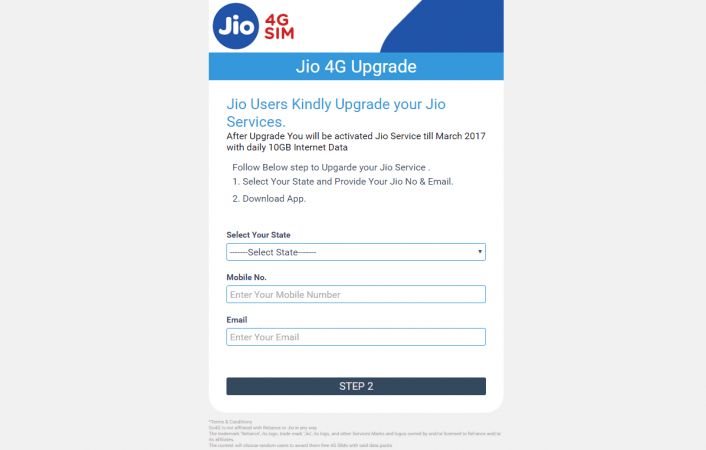 Ever since Reliance Jio stepped into the market with its Preview Offer last September, it has been the talk of the town. From making mobile users extremely happy to putting telecom rivals in a tough situation, Jio has been more than successful. Now, as the Happy New Year offer comes to an end, rumours are rife that the company might extend the offer till June 2017 with nominal charge.
Read: Reliance Jio free 4G data, voice calls to continue till June 2017, but there's a catch
But that's not the only piece of information making the rounds of the internet that has got its users excited. One of biggest changes in the Happy New Year offer was the reduction of daily download speed from 4GB to 1GB. Although the services are offered for free, users seek more data to fulfill their heavy usage demands.
Seeing it as an opportunity, cyber criminals started a hoax where Jio users can upgrade their SIM to get 10GB daily download limit by following some simple steps. But the fact remains, it is nothing more than a hoax.
BGR India pointed out that an online scam is making the rounds on the social media sites with the 10GB 4G limit offer for Jio users. Anyone with slightest interest will fall prey to the scam, putting private information at risk.
The website URL – upgrade-jio4g.ml – as anyone with basic knowledge can guess is a fake one. Once you visit the site, there are three options, first one to select your state, second for your mobile number and finally the third one for your email address. But if you read to fine print under T&C, it clearly says "Go4G is not affiliated with Reliance or Jio in any way."
If you further continue, the site asks you to share the offer with friends and groups. In turn, you are becoming the host of this scam and your friends and family who will take your word for it will also fall for the trick.
Go4G is one of many hoax websites you can easily find with a simple Google search. But refrain from sharing any information or following the instructions given to you by shady websites.
If you are interested in offers that are valid, you can visit the official Jio website. Currently, Jio is offering its free 4G data, voice calls and SMS services for free till March 31, 2017. If you've exhausted your 1GB daily limit, you can either wait till post midnight for the speed to pick up or recharge with Jio plans, which give 1GB data per day for Rs 51 or 6GB data per month for Rs 301.