One offensive GIF forced two major social networking platforms, Snapchat and Instagram, to remove Giphy integration from their respective platforms. The move seems to be temporary, but affects millions of users who use the feature to jazz up their photos and videos.
If you're a regular GIF user on Snapchat and Instagram and wondering what changed over the weekend due to which you cannot add those funky moving images to your Stories, here's the complete story.
A 21-year-old Snapchat user first spotted a racist GIF that can be added to photographs before sharing them on Snapchat and it was later discovered on Instagram as well, TechCrunch reported. Both social media platforms have acknowledged the offense and removed Giphy integration completely.
The questionable GIF "appears to suggest that millions of deaths are caused by black people committing crimes with a number counter continually rising," IANS reported. The GIF also had a racial slur, which reads "N—– Crime Death Counter – Keep Cranking Bonzo, the Numbers Just Keep on Climbing!"
The racist GIF's appearance on Giphy platform questions its control on the type of content that is posted by developers. There's no word on when Giphy GIFs feature will reappear on Instagram and Snapchat, but both the platforms have issued statements addressing the incident.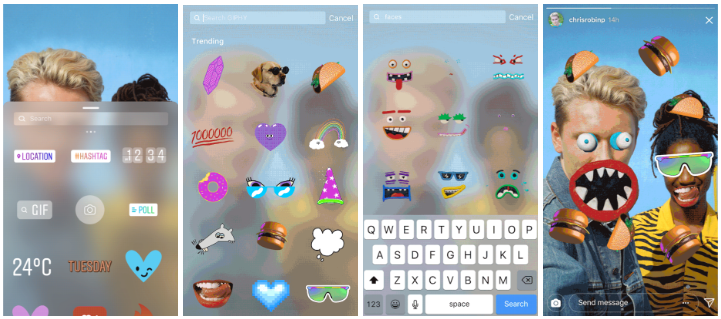 Here's what Instagram said: (via TechCrunch)
"This type of content has no place on Instagram. We have stopped our integration with Giphy as they investigate the issue."
Snapchat's statement read: (via Inverse on Friday)
"We are very sorry. This GIF should have never appeared in Snapchat. Our team has worked with Giphy to have the GIF removed and it should no longer appear."
In response to this situation, Giphy, which works like a search engine that indexes the top GIFs on the web, removed the racist GIF and investigated the matter to find that it was a bug in its content moderation filters. Here's a full statement Giphy spokesperson told TechCrunch.
"A user discovered an offensive GIF sticker in our library, and we immediately removed it per our content guidelines.

After investigation of the incident, this sticker was available due to a bug in our content moderation filters specifically affecting GIF stickers. We have fixed the bug and have re-moderated all of the GIF stickers in our library.

The GIPHY staff is also further reviewing every GIF sticker by hand and should be finished shortly.

We take full responsibility for these recent events and sincerely apologize to anyone who was offended."
Snapchat and Instagram added Giphy integration only recently. Instagram introduced the feature in January while Snapchat followed the suit in February.