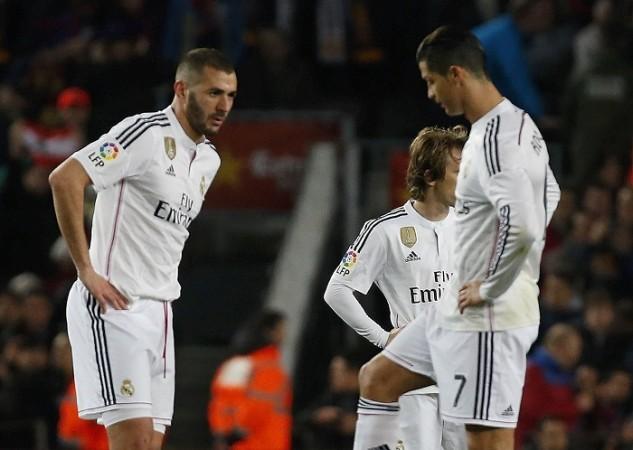 Real Madrid's 1-2 defeat against rivals Barcelona on Sunday's Clasico was not taken lightly by the supporters as they hurled abuses at the players on their return to the Spanish capital.
Although the Los Blancos were not in the best of forms ahead of the Clasico, they did pretty well after going behind to Jeremy Mathieu's early goal, equalising through Cristiano Ronaldo. They also created a lot of chances until Barcelona were lifted following Luis Suarez's second half strike, which eventually proved to be the decisive goal.
However, their fighting spirit against Barcelona were not appreciated by the fans, who were reportedly waiting for the team at the club's Valdebebas training ground in the early hours on Monday morning.
Gareth Bale and Jese Rodriguez's cars were kicked and punched by the angry fans, before defender Sergio Ramos stopped his car to tell the supporters that their behaviour was not right.
Bale, who has not been in good form of late, bore the brunt of the burden as he was heavily criticised by the Spanish media following Real Madrid's loss in the El Clasico.
Although he was very unfortunate not to score against Barcelona due to Ronaldo being offside, Spanish newspapers AS and Marca did not spare him.
While AS refused to give any points (out of ten) to the Welshman following his performances against Barcelona, Marca went a step further by saying that president Florentino Perez had paid €100 million for a player who was worth €20 million.
There have been speculations that the Welshman is looking to make a move back to the Premier League following his brutal treatment in Spain, but his agent Jonathan Barnett says that Bale is happy in Madrid.
"I spoke to Gareth a few times on Monday and he never even mentioned it [the incident at the Madrid training base]," Barnett told the Telegraph.
"He's perfectly happy and having a wonderful time there. I've never known so much rubbish and untruths being written about one person. There is stuff being created that doesn't exist."