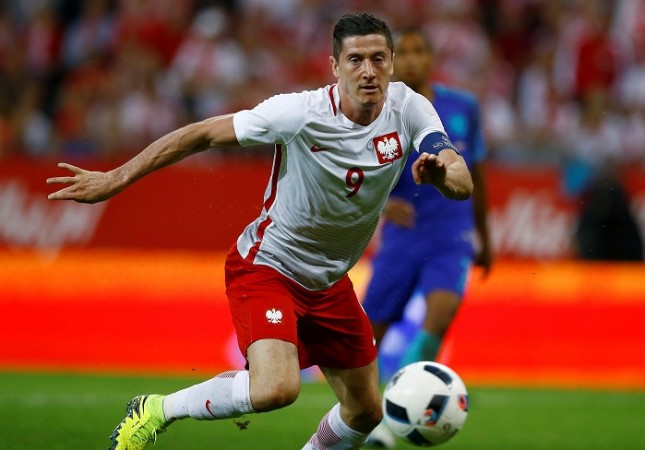 Real Madrid and Robert Lewandowski have come to an agreement over a summer transfer, with the Bayern Munich striker keen to link up with Cristiano Ronaldo and Gareth Bale at the Bernabeu next season. However, the transfer is far from a foregone conclusion, as Bayern Munich are unwilling to sell their star striker.
Lewandowski, though, has reportedly made his mind up over his departure from Bayern Munich, with the Poland international holding talks with Real Madrid to gauge their interest. According to Madrid-based newspaper AS, Lewandowski has convinced Real Madrid that he should be their "galactico" buy of the summer.
According to the report, Lewandowski's agent Cezary Kucharski met with Real Madrid officials, including director Jose Angel Sanchez, to discuss a potential move. A private agreement was the result of that particular meeting.
With an understanding already in place between Real Madrid and Lewandowski, the next step is now to convince Bayern to sell. That is not going to be easy, considering Lewandowski is one of their most important players and the dearth of quality centre-forwards in today's market.
Most clubs would shell out insane money to sign a player like Lewandowski, such is the worth, nowadays, of a pure central striker, someone who can hold the ball up, play with his back to goal if necessary, have enough pace to go in behind the defence and smash those balls into the back of the net every time a chance presents itself.
However, if Real Madrid are able to convince Bayern Munich to sell – and the only way that will happen is by Real offering crazy money – they will have one of the best strikers in the world.
If Lewandowski does move to Real Madrid this summer, it will immediately throw the future of Karim Benzema in doubt. The France international is coming off another productive season with Real Madrid, a season in which he helped them win the Champions League title.
If Lewandowski is signed, though, Benzema is likely to be sold, considering the Frenchman will not want to warm the bench, especially during the prime of his career.
At 28, Benzema will want to be one of the first names on the scoresheet, and with Ronaldo and Bale playing at either side of the front three, that will be difficult to envisage, if, and it remains a big if, Lewandowski signs on at Real Madrid.
There will be no shortage of suitors if Benzema becomes available this summer, with the Premier League likely to be his destination. Arsenal were heavily linked with a move for the former Lyon striker last summer, and with Arsene Wenger still in the market for a potent forward, a bid should be forthcoming from the London side.
The likes of Manchester United, Chelsea and Liverpool might also give it a crack, but with all three missing out on Champions League football for next season, convincing Benzema to sign will not be easy.