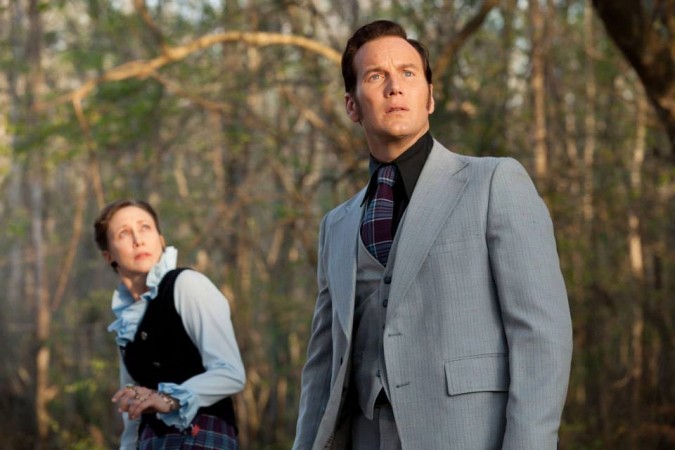 The Conjuring movie series is going to be bigger and scarier. Director James Wan recently confirmed the details of The Conjuring 3 and from the looks of it, the upcoming supernatural horror movie is going to be a lot more haunting than the previous films in The Conjuring Universe.
It was reported back in October that a third film in the Conjuring series is under production stage. It was around the same time when it was speculated that instead of focusing on a family story, The Conjuring 3 will follow the story of a man who is under investigation for murder or a series of murder and claims that he has been possessed by a devil entity who had made him do the said crimes.
More details about The Conjuring 3 have been confirmed by director James Wan. While speaking to Bloody Disgusting, the acclaimed director somehow confirmed the storyline of the upcoming movie.
"I think it's the first time in America's history where the defendant used possessions as a reason, as an excuse. All the Conjuring films are based on the case files, so they're more based on the true story aspect of the real-life Warrens," he said.
Apparently, this is not the only time when director James Wan has talked about the potential third film in the series. James Wan stated in the past that in the years to come, there would be many more movies because "[Ed and Lorraine] Warrens have so many stories."
Back in 1981, the Warrens came across a chilling case of a 19-year-old Arne Cheyenne Johnson, who pleaded not guilty to the manslaughter of his landlord on the grounds that during the act of crime, he was possessed by a demon. As per reports, the demon had previously possessed another family member of Arne.
When the case came to the Warrens, they testified in Arne's defence as they were very much involved with the exorcism of Arne's family member. However, Arne was later convicted but only served fives years of his sentence.
The Conjuring 3 movie could be based on this real-life incident. More details will soon be revealed.
The films in Conjuring Universe present a dramatization of the real-life cases of Ed and Lorraine Warren — paranormal investigators and celebrated authors with a history of controversial cases of haunting. The main series in the story follows the attempts of Warrens to assist those who are possessed by demonic spirits, while the spin-off films like Annabella and The Nun series focused on the origins of some of the entities which the Warrens have encountered during their time.
Apart from earning praise for stunning casting and brilliant writing and direction, the Conjuring Universe movies have been notable for its profit as well. The Conjuring and the follow-up movies have earned a combined profit of over $544 million in box office against a total budget of just over $100 million.