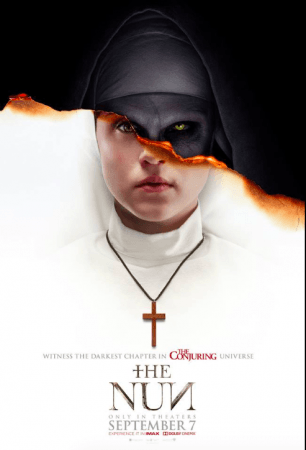 The Nun movie was released earlier this week and so far the film has grossed $131 million worldwide. However, the movie's collection might get a steep response as several versions of the film have made a way to the online piracy world.
Featuring Taissa Farmiga, Demián Bichir, and Jonas Bloquet, the prequel to The Conjuring movie, The Nun is now available for torrent users to download or stream online for free. Although the leaked and pirated print of the film are not of HD quality and some even have poor audio, there are still many from around the world who would not mind watching the illegal content.
There are laws and regulations that come under the piracy act. In the United States of America, The Stop Online Piracy Act (SOPA) was introduced to expand the country's ability of U.S. law enforcement to combat online copyright infringement and online trafficking in counterfeit goods. Irrespective of the government actions, almost all of the recent Hollywood movies got leaked online in the recent months.
While most of the films are leaked online a day or two after the release, there have been few films in the recent years which were leaked online even before they hit the theatre. The test footage of Ryan Reynolds' Deadpool was infamously leaked during the San Diego Comic-Con in 2014; parts of Edward Norton's Hulk were leaked just before the release date; Denzel Washington's American Gangster's screener was also leaked online a couple of weeks before the film's release date.
As per the report from The Collider, The Nun is doing extremely well at the box-office. Warner Bros.' horror flick earned $53 million in its opening weekend. Directed by Corin Hardy from a script by Gary Dauberman, the film explored the origins of the demon Valak who was first appeared in Vera Farmiga's The Conjuring 2.
The film holds an approval rating of 28 percent based on 107 reviews on Rotten Tomatoes. The site's consensus reads, "The Nun boasts strong performances, spooky atmospherics, and a couple decent set-pieces, but its sins include inconsistent logic and narrative slackness."
Based on the success of earlier films in the horror universe of The Conjuring, it is been speculated that The Nun will reportedly make new records, however, the leaked movie will slightly affect its worldwide collection in the coming days but there are fans of the horror movie series who would not miss watching it on the big screen.