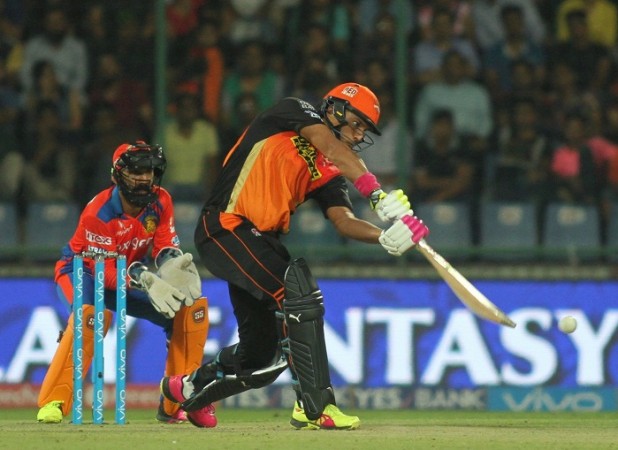 The IPL 2016, after some high-octane cricket over the last 59 matches, has boiled down to two teams -- Royal Challengers Bangalore and Sunrisers Hyderabad -- as they prepare for the all-important final in Bengaluru. Both teams have secured their spots in the final, with RCB defeating Gujarat Lions in Qualifier 1, and SRH defeating Kolkata Knight Riders. Gujarat Lions have marched into the title-decider with their heads held high.
Besides their performances in the playoffs, RCB and GL registered eight wins each in the group stages as well.
However, RCB have a golden chance of winning their first IPL title as they have won their last five matches on a trot, and besides their fantastic batting line-up, bowlers have also shone of late, making them a formidable side. SRH, who are playing their first IPL final, have played as a unit, with skipper David Warner leading from the front, and the Australian will need an all-round support from his players to defeat RCB.
Here is look at how RCB and SRH can win IPL 2016 title.
How can RCB win: SRH's Warner has been the most consistent batsman for his side and win matches single-handedly. It is imperative for RCB bowlers to get his wicket as quickly as possible. RCB bowlers might have sat down and chalked out plans to bowl against the left-hander, who is strong on both sides of the wicket. Early on, RCB bowlers have to bowl straight and not give him width, which Warner likes and cashes in with ease.
RCB bowlers need to be consistent throughout. SRH middle order has been decent, but with Yuvraj showing decent form of late, he could run away with the game. Shane Watson can use his experience of bowling in the middle overs and not give away easy runs, especially to Yuvraj, who should be tested with the short ball, which is his weakness sometimes. He will anticipate a bouncer, and the field should be set up for a ball on the chin, but Watson should fox him with a yorker and get him out.
In the slog overs, Chris Jordan needs to come up with his best bowling, bowl yorkers, take wickets, which will make life difficult for SRH.
If RCB bowlers get their act right, half of the job is done as the host comprise the best batting line-up in the competition. With Kohli in superb form, he needs to play the anchor role and allow Chris Gayle to play his shots, get a head start, after which other batsmen like AB de Villiers, Shane Watson and KL Rahul can get into the game and spank the bowlers. The key will lie with Kohli, the way he controls the innings, and if he plays the full quota of 20 overs, he may as well score his fifth IPL 2016 century, complete 1,000 runs and most importantly, win the title for RCB.
How can SRH win: SRH need to take inspiration from their last head-to-head encounter against RCB, where they emerged victorious by 15 runs. They restricted Kohli to 14 runs, which is once again going to be the key. Though Kohli and De Villiers will play an important role during the final, SRH bowlers, who have been superb in IPL 2016, need to come to the party in the all-important final against RCB.
Dismissing Kohli and Gayle will be their prime agenda and they have bowlers like Bhuvneshwar Kumar and Mustafizur Rahman to deal with these in-form batsmen. With such a top heavy batting line up of RCB, Mustafizur, for a change, can be used as an opening bowler and try to dismiss their openers, which could be a huge start for SRH.
But the game is much more than the RCB batsmen, as they can also crumble under pressure as well, which was witnessed against Gujarat Lions in Qualifier 1, but De Villiers played a great knock to help them win. During that match, GL failed to pressurise the South African in the middle overs. SRH bolwers need to not only put a brake on scoring in the middle overs, but also take wickets. Besides Bhuvneshwar Kumar and Mustafizur, spinners Bipul Sharma and Yuvraj Singh also need to support these pacers.
However, bowling well only does not guarantee SRH their first IPL title, their batsmen needs to bat well. Besides Warner, other batsmen like Shikhar Dhawan and Yuvraj also need to play sensibly, and score runs for SRH, whose fans will hope Warner can play another sensational knock and help their team emerge victorious as the left-hander's lengthy time in the middle with the bat will put SRH in a commanding position. When it comes to such big matches, players have to stand up and the SRH batsmen, who have not been consistent in IPL 2016, need to show their class and stun RCB by outscoring them in the final. Mind you, Yuvraj relishes in such big-games.
Irrespective of how other players perform, if AB de Villiers and Virat Kohli have a great day, RCB should win their first title. But if they fail, and SRH bowlers, along with Warner have a good day, the visitors will win their maiden IPL title.