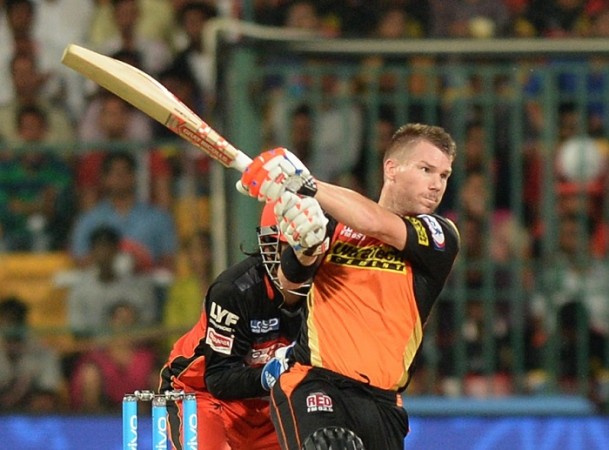 The Sunrisers Hyderabad did everything right with the bat – David Warner smacked the ball to all parts of the ground, Shikhar Dhawan and Yuvraj Singh chipped in with a few precious runs and then Ben Cutting sliced Shane Watson in half at the death to take the score past 200, all the way to 208.
Then, when Chris Gayle was going berserk and Virat Kohli was doing what he always does in a chase, the Sunrisers bowlers came to the party, showing why they have been, without a shadow of a doubt, the best bowling unit in IPL 2016. Gayle fell, and then so did Kohli and finally De Villiers, and once those three went back to the pavilion, the SRH bowlers tightened the noose to clinch the IPL 2016 final by eight wonderful, outstanding, sweet-as-they-come runs.
This was an IPL 2016 final for the ages. A total of 408 runs were scored in the final at the Chinnaswamy Stadium, and after SRH piled on 208, RCB were making that target look like a Sunday morning stroll, with Chris Gayle (76, 38b, 4x4, 8x6) showing why he is the "Universe Boss" and Virat Kohli batting like, well, Virat Kohli.
In the blink of an eye, everything changed and the Sunrisers Hyderabad's class shone through to give them their maiden IPL title and consign RCB to a third, most agonising of them all, loss in the final.
Gayle started in a blaze of glory, hitting those sixes straight down the ground at will to give RCB just that start they needed. With Gayle going crazy at one end, Kohli was happy to just give the strike to his partner, with the left-hander scoring 76 runs of the 114 partnership between the two for the opening wicket.
When Gayle fell, it looked like he had done his job for his team, with RCB needing 96 from 57 balls, quite makeable with nine wickets in hand, and two of those being Kohli and De Villiers.
However, SRH showed they do not have "lie down and play dead" in their vocabulary, and they kept plugging on, in the hope of getting that big wicket of Kohli or De Villiers. The Sunrisers bowlers not only picked up Kohli (54, 35b, 5x4, 2x6), played on off Barinder Sran in the 13th over, but also that of De Villiers (5, 6b), who fell in the 14th, holing out to Moises Henriques off Bipul Sharma.
Suddenly from fine and dandy RCB were in troubleland, with little help in sight. Yes, they had Shane Watson and KL Rahul still at the crease and the likes of Sachin Baby, Stuart Binny, Iqbal Abdulla and Chris Jordan to come, but without any of their top three at one end, it looked like a completely different ball game.
And so it proved, despite a valiant effort from an emotional Sachin Baby (18 n.o., 1x4, 1x6).
Earlier, Warner took it upon himself, again, to make sure his bowlers would have something to defend on this near-undefendable ground that is the Chinnaswamy. Warner's innings of 69 (38b, 8x4, 3x6) was so beautifully controlled, which is what made it so special. There were no wild swings, no moment when he seemed out of touch with what he wanted to do, it was so beautifully paced, so beautifully timed, that it is a pity that amongst all the ridiculous hitting that followed, Warner's innings might be a little forgotten.
Warner did not do it all alone this time, however. Dhawan added 28 (25b, 3x4, 1x6) in an opening partnership of 63, while Yuvraj scored a vital 38 (23b, 4x4, 2x6), taking over after Warner fell in the 14th over.
Once Yuvraj was done, though, and just when RCB looked like they would restrict SRH to around 170-180, Cutting played a knock that made the word blitzkrieg, used so often to describe such innings, look like something Jimmy Adams would play.
Included in Cutting's assault of 39 (15b, 3x4, 4x6) was a six, that was measured at 117 metres, but was probably a lot bigger than that, as it went over the roof and out of the ground, with the ball still probably rolling somewhere down St. Mark's road.
That gave SRH the momentum they needed, and they, eventually, rode on that momentum to script history.